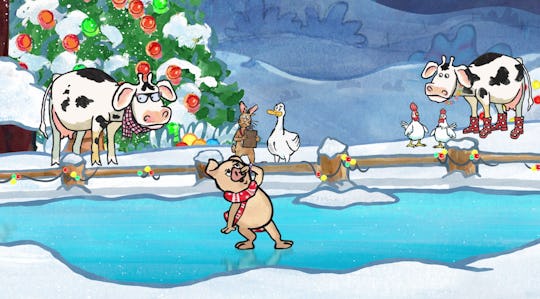 Amazon
There's A 'Click Clack Moo' Holiday Special On Amazon & Your Kids Are Going To Love It
Every year, even without children, my husband and I watch the classic claymation holiday movies, like Rudolph and Santa Claus is Coming to Town. It's tradition. Of course, we have to throw in The Santa Clause trilogy for good measure. If you and your kids have already blown through these movies or are looking to add a new movie to the holiday lineup for new traditions, Amazon Prime Video Kids is premiering new holiday specials, including a new one from Click Clack Moo. Check out how to watch Click Clack Moo: Christmas at the Farm on Amazon Prime this year, because this new holiday favorite is one for the tradition books.
Click Clack Moo: Christmas at the Farm is based on the best-selling books by dynamic duo Doreen Cronin and Betsy Lewin, and you can watch it by subscribing to Amazon Prime. If you want to get the Prime video-only option, it's $8.99 a month. However, if you want some pretty awesome free two-day shipping deals, unlimited photo storage, and even free same-day delivery in some instances, you can get it for as low as $99 a year. If you're an avid Amazon shopper and like to do all your holiday shopping from the comfort of your own home, the 30-day trial might be a good option for you.
Once you have the membership, you can watch Amazon Prime Videos "from anywhere," the website boasts. Anywhere includes devices on the go, such as iPhones, iPads, iPods, Androids and tablets, Fire Phones or Fire Tablets. If you'd like to watch Click Clack Moo: Christmas at the Farm in your holiday jammies on the couch with some hot chocolate, you can stream it on your SmartTV, game consoles such as Xbox, Playstation, or Wii, an Amazon Fire TV or the Fire Stick, Blu-ray players, or "set-top boxes" like Roku, Google TV or TiVo.
As another side note for parents, according to the Tom's Guide website, you can get "20 percent off diapers through Subscribe & Save and 15 percent off eligible products from your baby registry. For more information, go to Get 20 percent off Diaper Subscriptions or About the Completion Discount."
What's this Click Clack Moo holiday special all about and why should I spend $8.99 a month on Amazon Prime for it? Remember that awesome Nickelodeon show The Adventures of Pete & Pete? Am I showing my age here? Well, if you're an old millennial like me, then you'll probably remember the two ginger brothers who were both named Pete, and their show about all the weird shenanigans they'd get into at school and at home. Click Clack Moo: Christmas at the Farm is written by Will McRobb, who was the creator of The Adventures of Pete & Pete, according to a press release from Amazon. Additionally, for even more of an old school '90s Nickelodeon throwback, he was the story editor for Rocko's Modern Life, Doug, and The Ren and Stimpy Show. McRobb also wrote the screenplay for the new Alvin & the Chipmunks movie. Be still my '90s cartoon loving heart. So you know this will be good.
The premise of this particular story, according to the Amazon press release, is the animals on the farm want to buy Farmer Brown a Tumbletron 300 clothes dryer for Christmas, but how? They're racing against the holiday clock to somehow get Farmer Brown the "Christmas present of his dreams," all while Duck keeps upping his "nice" numbers to get off Santa's naughty list.
Click Clack Moo: Christmas at the Farm will be available on Nov. 28 and will be featured among other new holiday movies this year, including If You Give A Mouse A Christmas Cookie, The Snowy Day, and Pete the Cat: A Groovy New Year, to add to your arsenal of kid-friendly holiday entertainment you can watch and enjoy again and again this year.
Check out Romper's new video series, Romper's Doula Diaries:
Watch full episodes of Romper's Doula Diaries on Facebook Watch.