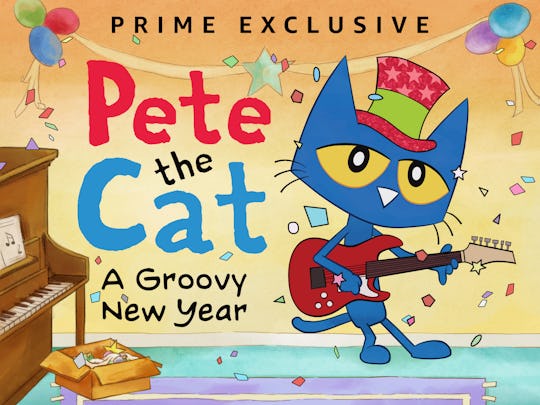 Amazon
There's A 'Pete The Cat' New Year Special Coming To Amazon & TBH, It Looks So Fun
After the most wonderful time of the year, it's time to start planning and thinking of goals and "resolutions" for the following year. And while there are an immeasurable amount of holiday movies to choose from, there aren't that many NYE-specific movies to put you in the New Year's spirit — especially children's movies. Thankfully, Pete the Cat is here to save the day with a brand new movie musical extravaganza. Wondering how to watch Pete the Cat: A Groovy New Year? All you need is an Amazon Prime membership for $8.99 a month.
When most people think of Amazon Prime, they probably think of the $99 per year subscription which includes free two-day shipping, unlimited music streaming, unlimited videos, and sometimes even free same-day delivery. However, Amazon Prime offers an $8.99 a month option just for watching their videos. You can watch Pete the Cat and other favorites at home via your SmartTV, Blu-ray player, Roku, Google TV, or TiVo, Amazon Fire TV, or your Fire TV Stick. If you have an Xbox, Playstation, or Wii, you can stream movies on those as well. Need something to keep your kids occupied over the river and through the woods to grandmother's house? You can stream Amazon Prime videos on Android devices through the Amazon Video app on your tablet or Android phone; on your iPad, iPod, or iPhone; and on your Fire phone or your Fire tablet. You can even watch movies and TV shows on your laptop or desktop (though that could get uncomfortable on a desktop, if you ask me).
Pete The Cat: A Groovy New Year is based off the wildly popular Pete the Cat books by Kimberly and James Dean (no, not that James Dean). Artist James Dean loves anything and everything related to cats, and according to the Pete the Cat website, he published his first adult book, The Misadventures of Pete the Cat, which featured his artwork, in 2006. However in 2004, he and his wife Kimberly sat down and wrote a children's book, Pete the Cat and His Magic Sunglasses after leaving their corporate jobs in the '90s. Now Pete is the star in picture books, story books, e-books, collections and gift additions, "I Can Read" books, and song books, featuring Eric Litwin, who has recorded two award-winning children's music CDs, according to the website.
What makes this Pete The Cat holiday musical so cool? There are songs by Canadian jazz singer-songwriter Diana Krall and her husband, Elvis Costello, KT Tunstall, and musician and record producer Don Was for starters. Plus, if you like what you hear in the movie, there will be a soundtrack available to purchase so you and your kids can listen to it on car trips over and over (and over) again. Hey, at least it's not "Let It Go" from Frozen anymore, right?
As for the story itself, even though Pete the Cat needs a New Year's Resolution for the new year, he doesn't know what a resolution is. And according to a press release from Amazon, "With the help of his family and friends, Pete sets out on a fun, musical ride to find one."
Pete the Cat: A Groovy New Year will be released on Dec. 26, and will join Amazon Prime's other original holiday specials, including Click Clack Moo: Christmas at the Farm, The Snowy Day, and If You Give a Mouse a Christmas Cookie, all movies based on children's books. Hopefully, watching these movies with your family will bring on happy holidays and a happy new year.
Check out Romper's new video series, Romper's Doula Diaries:
Watch full episodes of Romper's Doula Diaries on Facebook Watch.