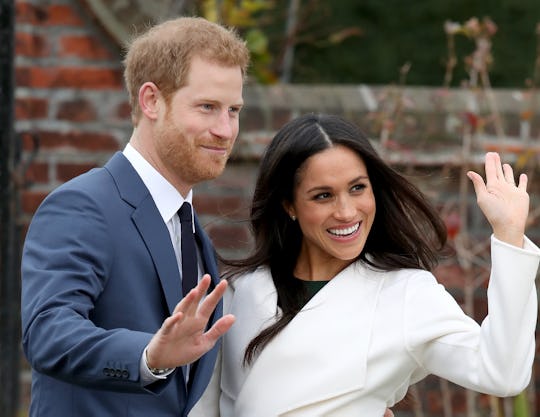 Chris Jackson/Getty Images Entertainment/Getty Images
Here's How You'll Be Able To Watch Prince Harry & Meghan Markle's Wedding
It's finally happening — another royal wedding is finally happening. Prince Harry and Meghan Markle are officially engaged and the world is ready for it. It's been nearly seven years since the world tuned in to watch the Duke and Duchess of Cambridge tie the knot, and I for one am extremely excited to watch the new couple make it official. If you're like the rest of us royal lovers, you'll want to know how to watch Prince Harry and Meghan Markle's wedding, too.
Luckily, it should be pretty easy. According to BBC, the two are expected to wed in the spring of 2018 and various sources have claimed they'll be avoiding the month of March so their wedding plans don't interfere with the birth of Prince William and Kate's third child. At this time, those are all the wedding details we have. The official announcement from Clarence House noted that "further details about the wedding day will be announced in due course." But if it's anything like William and Kate's big day, there's a huge chance you won't miss it — after all, this is already being touted as "the wedding of the year" for 2018.
In 2011, The Telegraph reported that an estimated global audience of 2 billion people tuned in to watch the Duke and Duchess of Cambridge tie the knot. While that number came from a variety of sources including clips on NBC, People noted that BBC aired the wedding live and in America, the wedding was broadcast live on BBC America.
One can only assume the wedding of Prince Harry and Meghan Markle will follow the same media style, but don't fret if you don't have BBC or BBC America. According to Metro, 72 million viewers were able to watch the 2011 royal wedding live through YouTube. The channel, The Royal Channel, seems to have changed its name to The Royal Family Channel, which might have new live streaming videos of the 2018 royal wedding.
It's also a safe bet that every major news outlet will be covering the wedding in some form or fashion. Back in 2011, NBC released their own royal wedding coverage plans after working in partnership with their U.K. broadcast partner ITN, according to The Hollywood Reporter. But other major channels like Bravo, E!, Access Hollywood, MSNBC, and even The Weather Channel advertised some sort of programming related to the wedding.
Of course, no major network is going to release their royal wedding itinerary until it gets closer to the big day, but there should be plenty of chances to watch it. From your favorite channels to YouTube, everyone's going to be covering this real-life fairytale of Meghan Markle and Prince Harry.
So while you're waiting to see which channel to set your DVR to, here's what you can start doing. You can daydream about Meghan Markle's dress, you can cry happy tears that a happy, good person like Prince Harry is going to marry such a wonderful person, you can think about all the times you were a kid and wished you could marry a handsome prince like Prince Harry so you could be an "American princess," or, my personal favorite, you can brainstorm ideas for what Prince George and Princess Charlotte will do in the wedding. Can they carry flowers? Will Prince George come down the aisle with one of those Pinterest-Etsy banners that reads, "Uncle Harry, here comes your bride?" Will Prince William give a tear-jerking toast? Will Kate pull Meghan aside at some point and say, "OMG, I'm so glad you're here. I was getting really tired of all these boys"?
Oh man. Come on, spring 2018. We're ready for you. (And so are the networks.)