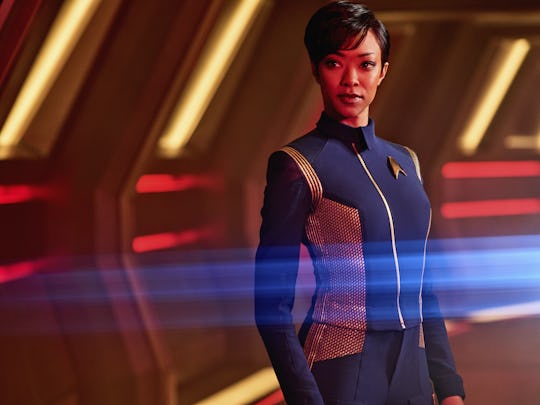 James Dimmock/CBS
How To Watch 'Star Trek: Discovery' Is Easier Than You May Think
Are you a person who enjoys stars, treks, and discoveries? Then boy are you in for a treat when Star Trek: Discovery premieres on CBS. However, you may find yourself wondering how to watch Stark Trek: Discovery, because it won't be broadcast in a traditional format after the series premiere. While you may get to watch the series free of commercials — a luxury we all prefer to indulge in these days — you won't be watching it the old fashioned way.
For the first episode, Star Trek: Discovery will air on CBS at 8:30 p.m. on Sunday, Sept. 24, after 60 Minutes and an NFL doubleheader, which will presumably lure in some football fans. But after this initial week, you won't be able to simply tune in to CBS on Sundays to watch the show anymore. Instead, the series will be streaming only on the CBS platform CBS: All Access. While this will likely bum some space adventure fans out, the good new is that CBS: All Access is not quite the financial burden you think it is. The subscription to the service costs just $5.99 a month, and $9.99 a month for access without commercials for those of you who are just rolling in the dough like some kind of Kardashian.
With your super expensive subscription, you'll also get access to a slew of CBS classics like I Love Lucy and all shows currently airing on CBS. That, plus a Hulu subscription that airs most other network shows in real time could just eliminate your need for a traditional cable service at all. Yes, folks, this is what the world looks like in the future. It is glorious and it is cheap. You will, obviously still need some sort of internet connection, but I'm assuming you have that anyway, otherwise how would you be reading this right now? CBS: All Access will also be streaming an After Show for Star Trek, where you'll be able to geek out even more after the episode actually airs.
Some outlets have reported that CBS will stream Stark Trek: Discovery on Netflix as well. This is true, and the episodes will be made available on the streaming platform within 24 hour of the episode's air date. However this will only be available in other countries, like the U.K. Unfortunately, in the United States and Canada the only way you'll be able to watch the series is with CBS: All Access. But considering how much you get in return, maybe it's worth it.
If you, like me, are wondering why this series is going to be streaming only, rather than available on the good old fashioned television, CBS Interactive CEO Jim Lanzone explains:
Sci-fi is not something that has traditionally done really well on broadcast. It's not impossible, for the future, if somebody figures it out. And things like Lost and Heroes have had parts of sci-fi, but historically, a show like Star Trek wouldn't necessarily be a broadcast show, at this point. So, you kind-of look at the other networks we might have — CW and Showtime — it just fit the Digital audience. And it's something unique for All Access that would bring subscribers.
While I heartily disagree that sci-fi doesn't do well on broadcast (see for example, the original Star Trek) I can understand why the network would want to lure subscribers to their streaming platform. More and more people are watching television less on their TVs and more through platforms like Hulu, Netflix, Amazon, and yes, CBS: All Access. Since the show is so futuristic itself, it makes sense that its platform would be too. But whether broadcast or streaming, it's sure to inspire legions of dedicated fans.
Watch Romper's new video series, Romper's Doula Diaries:
Check out the entire Romper's Doula Diaries series and other videos on Facebook and the Bustle app across Apple TV, Roku, and Amazon Fire TV.