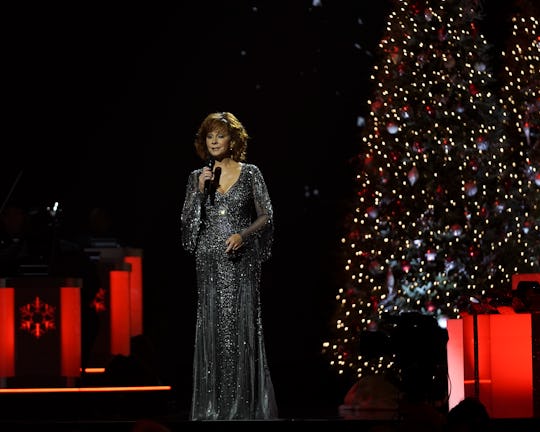 Mark Levine/ABC
The 'CMA Country Christmas' Special Is Another TV Event To Welcome The Holidays
The only thing better for country music fans than the CMAs is the CMA Country Christmas special, which is almost the same thing, but without the high stakes and pressure of actual awards being given out. Instead, the yearly event, hosted again this year by Reba McEntire, celebrates the season with various country music acts singing and dancing to all of your favorite Christmas songs. If you're already wondering how to watch the CMA Country Christmas special, you probably aren't alone, but there are a couple of different ways to go about it.
The first is, of course, catching it live on TV. The special airs on ABC on Dec. 10 at 8 p.m. ET. If you don't have access to live TV in the traditional sense, you can live stream ABC content online with the right cable provider login information. Or, you can do it on the ABC Go app. Right now, there are already some preview clips up on the CMA YouTube page, so I wouldn't be surprised if some of the performances are up a day or two after the special airs. But since this is a special and not part of a pre-existing TV show, there's no guarantee it will be available on demand from your cable provider afterward. The best course of action is to watch it live if you can.
The CMA Country Christmas special will feature a lot of your favorite country superstars, including Martina McBride, Brad Paisley, Old Dominion, and Brett Young. But besides music, you can probably expect to see some other fun Christmas-themed moments involving the singers. In two clips on YouTube, some of the musicians participate in a gift wrap competition, wrapping oddly shaped gifts and being awesomely bad at it. I don't know if those clips will be shown during the special, but it can probably help fans get in the Christmas mood in time for CMA Country Christmas.
According to the promo, there will also be an appearance by Santa and some dancing elves and Tony Bennett will perform with Diana Krall in what will probably be an epic duet. While I don't think it will be much different than the special from last year or the year before, it's definitely something country music fans still look forward to every holiday season.
McEntire recently told ABC7 News in Washington, D.C. that she had a lot of fun taping the Christmas special ahead of time. "It's just so much fun to do," she said, of being part of the show for the second year in a row. "I love Christmas songs, I've had two or three Christmas albums out, one out right now. So it's fun to get to sing, dress up… I hope everybody enjoys watching the show as much as we did putting it on."
Since she released her album My Kind Of Christmas in 2017, it probably wasn't a big surprise when she was chosen to host and perform for the CMA Country Christmas special in both 2017 and 2018. I also doubt it's surprising to know that during her time as host and performer this year, she had five different costume changes throughout the night. I think it's safe to say she kills it.
There are definitely enough big names to keep the night exciting this year and it's totally worth it to watch the special live instead of waiting and hoping it's available somewhere else later on. Most TV shows are on a break right now anyway, so there's no real excuse not to watch your favorite country music stars sing Christmas songs on a festive stage. CMA Country Christmas airs on ABC Monday night at 8 p.m. ET.
After experiencing a traumatic c-section, this mother sought out a doula to support her through her second child's delivery. Watch as that doula helps this mom reclaim the birth she felt robbed of with her first child, in Episode Three of Romper's Doula Diaries, Season Two, below. Visit Bustle Digital Group's YouTube page for more episodes, launching Mondays in December.