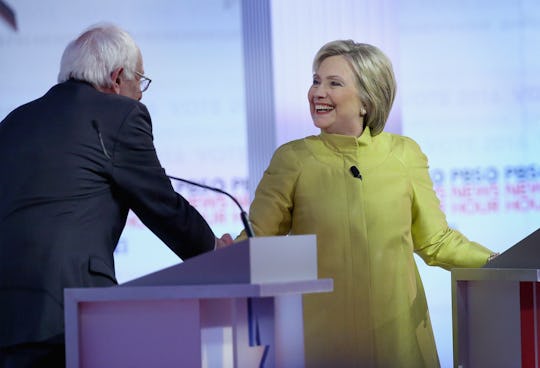 Win McNamee/Getty Images News/Getty Images
How To Watch The CNN Democratic Debate, Because It's Going To Be A Crucial One
The Democratic presidential primary has been a roller coaster for supporters of Vermont Sen. Bernie Sanders and former Secretary of State Hillary Clinton alike. But despite the ups and downs, the debates between the two candidates have been consistently civil and intelligent. No allusions to the size of the candidates' nether-regions, just good old policy arguments. On Sunday night, Clinton and Sanders will talk it out again, so make sure to watch the CNN Democratic debate, because it's a crucial one.
The candidates will debate on CNN at 8 p.m. EST, in the city of Flint, Michigan, which has been all over the news lately for its water crisis. Anderson Cooper will moderate, and CNN will be streaming the debate on their website, as well as on mobile devices.
This is the first Democratic debate since February 11, and a lot has changed in the intervening three weeks. Clinton pulled off a decisive win on Super Tuesday, which led many news outlets to proclaim her the inevitable Democratic nominee. Yet Sanders bounced back on Super Saturday, winning Kansas and Nebraska, while Clinton only picked up Louisiana. The polls for Sunday's primary in Maine will be closing right as the debate begins.
Clinton is still ahead in the delegate count, with 663 pledged delegates to Sanders' 459. When you add in superdelegates, the numbers get more discouraging for Sanders supporters — Clinton has 1,121 and Sanders has 481. Still, Sanders isn't giving up, promising that he is going to "stay in the campaign all the way to the convention in July." Given all that's occurred since the candidates last faced each other, this debate's sure to be interesting. And it could help clarify the big decision for undecided voters in important states like Michigan, Florida, and Illinois, which are all holding their primaries within the next two weeks.
Expect the candidates to honor Nancy Reagan, comment on Republican front-runner Donald Trump, and, perhaps most crucially, focus on Flint. For months, the city has been dealing with the effects of its switch to a different water supply in an effort to cut costs. The new water supply turned out to be contaminated with lead, and many have criticized the state government for taking far too long to do something about it.
Both candidates have since spoken out on the issue and its potentially race-based causes. "This is not merely unacceptable or wrong, though it is both. What happened in Flint is immoral," Clinton stated in a visit to the city, according to the AP. Meanwhile, Sanders told the crowd at a recent rally, "I fear that Flint is the canary in the coal mine here."
Make sure to tune into CNN to hear what else the candidates have to say on Sunday night. Don't have cable or access to a livestream for some reason? You can follow along on Twitter with the hashtag #DemDebate.