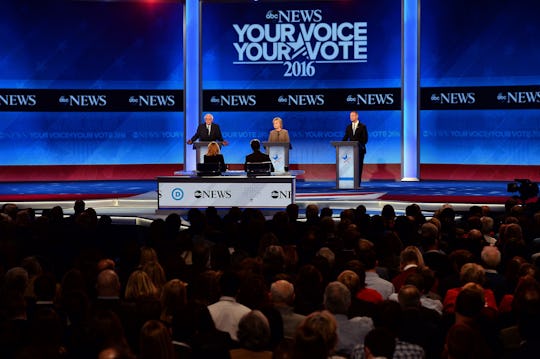 JEWEL SAMAD/AFP/Getty Images
How To Watch The Democratic Debate Because It's Sure To Be An Exciting One
Following the first GOP Debate of 2016, Democratic presidential hopefuls will take center stage Sunday, Jan. 17th in Charleston, South Carolina for the first Democratic primary debate of the new year (and the fourth overall). The debate promises to be the most spirited yet, as Vermont Sen. Bernie Sanders has gained on frontrunner and former Secretary of State Hillary Clinton in at least a few key states. If you're wondering how to watch the Democratic Debate and watch what will likely be an intense discussion unfold, have no fear: There are multiple chances for you to get in on the political action.
For those of you with basic cable access, you can tune in at 9 p.m. ET on NBC, when the candidates are scheduled to take the stage. If you don't have a television or access to cable, a live stream will be available on Time.com, beginning at 8pm EST. You can also check out NBC's YouTube channel, which will also offer a live-stream of the debate as well.
NBC's Lestor Holt will be moderating the Democratic showdown. The debate will also be the final chance for all three candidates — front-runner Clinton, Sanders, and former Maryland Gov. Martin O'Malley — to highlight their respective platforms before key primary votes in Iowa and New Hampshire.
The debate is held close to the site of last year's devastating mass shooting at Emmanuel African Methodist Church, giving viewers and potential voters alike good reason to assume that gun control will be a topic of interest.
On Saturday, Sanders, who has been previously criticized for his unwillingness to back strict gun measures along with his Democratic counterparts, came out in support of legislation that would, according to Bloomberg Politics, "weaken a 2005 law protecting gun manufacturers and dealers from lawsuits" if their weapons happened to be used in a crime. While the move will definitely change the atmosphere at Sunday's debate, Clinton's staff waved off any insinuation that Sanders might be gaining points by doing so, calling his statements a "debate-eve conversion."
Following the first GOP presidential debate of 2016 — one that largely ignored women and women's issues — it wouldn't be a surprise if all three democratic candidates turned their attention to their Republican rivals, and highlighted the back-and-forth bickering that made up the majority of the GOP debate as well.
Regardless of which topics are tackled and who says what to who, this Democratic presidential debate is sure to be a good one, and one you definitely won't want to miss.
Images: JEWEL SAMAD/AFP/Getty Images