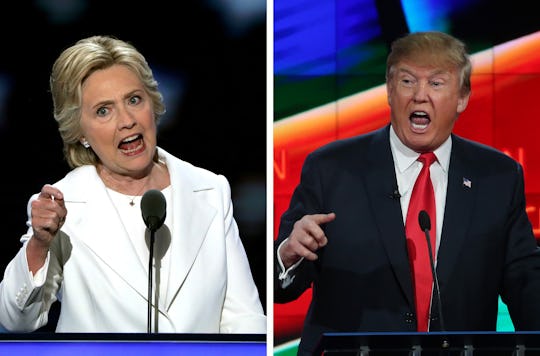 Alex Wong/Getty Images News/Getty Images
How To Watch The First 2016 Presidential Debate, Because The Candidates Will Be On Fire
Hillary Clinton and Donald Trump attended the same 9/11 memorial ceremony in New York City Sunday, but it's rare for the two presidential candidates to be the same place at the same time — unless, of course, they're on the big debate stage. Throughout this bizarrro 2016 campaign season, the two have become much more accustomed to trading jabs indirectly, through both the news media and social media outlets. With their supporters polarized and the candidates unable to dredge up much respect for each other amid the ideological and temperamental differences, the new phase of the election cycle — the debates — promise to be equally contentious and revealing. So, here's how to watch the first 2016 presidential debate, because Clinton and Trump are sure to be on fire.
The first general election debate of 2016 is scheduled for 9 p.m. ET on Monday, Sept. 26, at Hofstra University in New York. There, moderator Lester Holt, a host on NBC Nightly News, will preside over six 15-minute segments, which will each focus on an as-yet-unannounced topic of his choice.
Clinton experienced a surge in the polls after the Republican and Democratic National Conventions wrapped up in late July. But the latest RealClearPolitics poll reveals that, with the stated support of 46 percent of likely voters, Clinton has just a 4-point lead over her wily opponent, who garnered 42 percent. So, when they (probably) discuss the economy, immigration, terrorism, and more, their answers — and how they deliver them — could really matter.
So the good news for viewers, especially undecided voters (who are you, anyhow??) is that tuning into the first debate will be easy for anyone with cable or an internet connection. According to the Latin Post, major cable news channels, including CNN, Fox News, and MSNBC, will carry live coverage of each of the debates. They'll also be broadcast on C-SPAN, ABC, CBS, and FOX. CNN has live-streamed the primary debates in the past, and is likely to do it again. Live-streams of the various major news networks that will carry the debates can be found here.
In addition to the three upcoming presidential debates, vice presidential candidates Tim Kaine and Mike Pence will square off during their own debate, which CBS News anchor Elaine Quijano will moderate Oct. 4. The presidential debates are scheduled for Sept. 26, Oct. 9, and Oct. 19, and viewers can catch them all the same way they get the first one.
The debates are a great indicator of how the respective candidates perform under pressure and how well they understand foreign and domestic policy and the many, many issues the nation is facing that the next president will have to address. There's less than two months until Election Day, Nov. 8, so tune in.