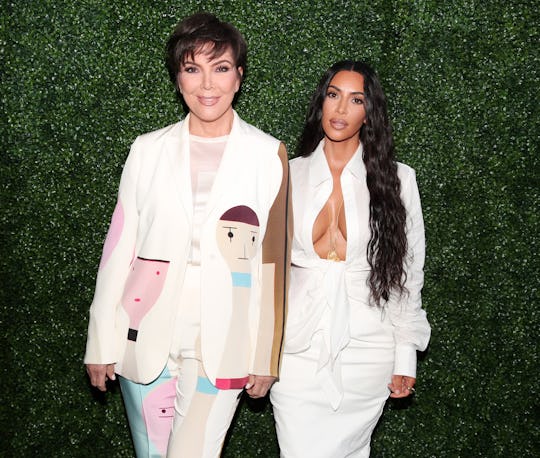 Christopher Polk/Getty Images Entertainment/Getty Images
Here's How To Catch The Kardashian Episode of 'Family Feud'
If you keep up with the Kardashians, you may already know that the Kardashians were recently on Celebrity Family Feud. Momager Kris Jenner and her team — her mother, Mary Jo, daughters Khloé Kardashian and Kendall Jenner, cousin CiCi Bussey, and family friend Jonathan Cheban - faced off against Kanye West, Kim Kardashian West, and three of Kayne's cousins on their episode. But you might not know how to watch the Kardashians on Family Feud if you missed it, so Romper decided to investigate a little bit.
When Family Feud host Steve Harvey appeared on The Ellen Show in April and talked a little bit about the episode, he said, according to Noisey, "Kanye was the best celebrity family feud panelist we've ever had. His people said, 'Steve, this is the most Kanye's ever smiled since we've worked with him.'" Considering some of the controversial statements Kanye has made lately, it is a little surprising to see Kanye in such a good mood in clips from the West versus Kardashian episode of Celebrity Family Feud.
In fact, in the "Meet the Families" part of the episode, posted to YouTube on the Family Feud channel, Kanye yells out at one point, "Gotta have the Feud!," Junkee reports, so maybe he was just genuinely excited to be there.
The teams faced off "many months ago," according to Vulture, which likely means that the episode was actually aired long before it ever hit TV screens. That could be why at least one other Kardashian family member was not on the Family Feud team, and spots were taken up by a cousin and family friend instead. Depending on when the episode was filmed, Kylie Jenner may have still been hiding her pregnancy, or possibly recovering from giving birth to her daughter, Stormi Webster.
The highly anticipated Season 4 premiere episode, "The Kardashian Family vs The West Family," aired on June 10, according to ABC. But the link to the episode doesn't appear to offer a way to watch it, and upon further investigation, the main Celebrity Family Feud page reads "Coming Soon" over a link to the famous family's episode. So it's unclear as of Friday, September 21 whether the episode was previously available on the website, but isn't now, or if it will be officially hosted there for the first time very soon.
However, on Thursday, the Celebrity Family Feud Twitter account alerted followers that the Kardashian versus West episode is also going on air on Sunday at 8 p.m. EST. So if you didn't watch the episode the first time around on TV, it sounds like you'll get another chance in just a couple day's time.
There are also clips of the episode on YouTube, including on the official Family Feud account, as previously mentioned. But be warned: some of the videos don't seem to be totally legal or authorized, so what is available for viewing today may not be there if you decide to watch the episode tomorrow or at a later date.
Hulu also seems to offer episodes of Celebrity Family Feud to watch, but you've got to have a subscription to tune in. And currently, the Kardashian episode is not available on the streaming service. However, four episodes of the same season are available on Hulu, and it's likely that after the episode airs again on Sunday, it will be added to Hulu's selections as well.
So if you somehow missed the Kardashians facing off with the Wests on Celebrity Family Feud back in June, don't fret: there are still other ways to watch, if you really want to see Kanye geeking out and Kim and Khloé get competitive with each other in front of a live audience.