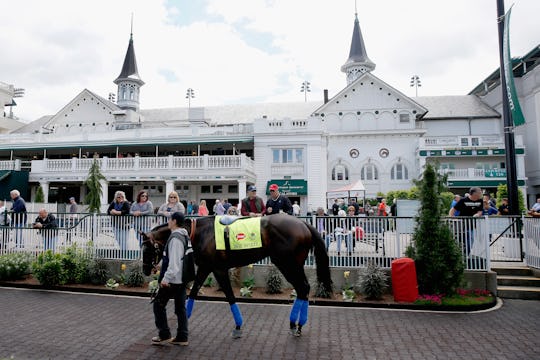 Rob Carr/Getty Images Sport/Getty Images
How To Watch The Kentucky Derby & Get In On The Churchill Downs Action
It's that time of year again. The Kentucky Derby will take place on Saturday, May 7, for its annual continuation of a long-standing horse racing tradition dating back to the first race in 1875. If you're a big fan of this historical horse racing event, you'll want to know all the details on how to watch the Kentucky Derby this Saturday. And if you aren't a big horse-racing fan? You might want to tune in anyway — because this year's competition is sure to be fierce.
The Kentucky Derby takes place at the Churchill Downs racetrack in Louisville, Kentucky; If you plan to actually travel to Louisville before Saturday and experience the events in person (or if you live there already), the official site for the Derby offers a few ticket options.
According to the site, tickets to the Derby and Kentucky Oats event, a sister event to the Derby taking place on Friday, May 6, are almost sold out. But the Kentucky Derby offers an official "Kentucky Derby Ticket Exchange" for fan-to-fan resale. Alternatively, general admission tickets for the Derby, where fans can watch the race picnic-style on a video board from a field in the vicinity, are available for $60.
If going to Louisville, dropping at least $300 for a reserved seat, or potentially seeing some celebrities in traditional Kentucky Derby fashion are not in the cards for you this week, you still have options.
NBC Sports will air the Derby events beginning Wednesday, May 4. On that day, NBC will cover the post position draw, which is scheduled for 4:30 to 5 p.m. ET, and then the Kentucky Oats event at 12:30 to 6 p.m. ET on Friday, May 6. On Saturday, NBC Sports will air the Kentucky Derby undercard races from noon to 4 p.m. ET, immediately followed by the main event which ends at 7:30 p.m. ET.
Judging by the traditional numbers of Kentucky Derby watch parties held and organized in cities across the country, it seems Kentucky Derby fans have found fun ways to bring Louisville to them. The Kentucky Derby site even offers tips on how to fashionably get the "Derby Style" down to a science, along with other party planning, recipes and watch party ideas.
But if watching big events, debates, or, your favorite series on an actual TV screen, is, like, so yesterday for you, don't fret, you can stream away. The Kentucky Derby will also be available to stream on NBC Sports Live Extra. So, for all the Kentucky Derby fans, it's not too late to make your southern dishes and mint juleps in preparation for the big events. And if you're not a big Derby fan, I suggest that you still enjoy good drinks and traditional southern food this weekend – because, why not?