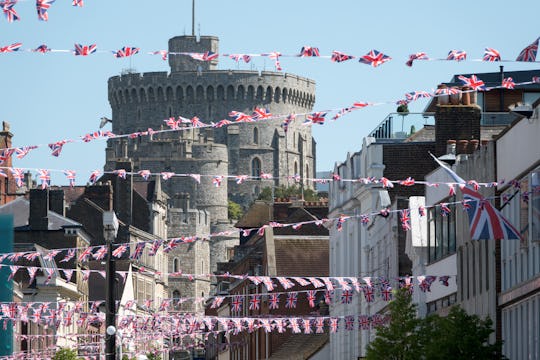 Matt Cardy/Getty Images Entertainment/Getty Images
How To Watch UK Streams Of The Royal Wedding In The US
We all have a pretty tough decision ahead of us over the next few days, and I think it's time to get serious about what we plan to do here. There are simply too many options for watching Meghan Markle marry Prince Harry on Saturday, May 19, and it's getting tougher and tougher for a girl to make her pick. Personally, I want to get the full British experience. I want to feel like I'm welcoming Markle into the royal family along with the rest of the country. So with that in mind, let's discuss how to watch the UK streams of the royal wedding in the United States.
After months of waiting and wondering, the royal wedding is just days away. I mean, you could count it in hours if you were so inclined at this point. Only two more sleeps until Markle walks down the aisle (sans her father, but let's not get into that again) at St. George's Chapel in Windsor Castle to marry the youngest son of Prince Charles and the late Princess Diana, Prince Harry. Prince William will stand as his brother's best man and his two children, 4-year-old Prince George and 3-year-old Princess Charlotte, will stand as page a boy and bridesmaid, respectively.
The best part? You get to watch the whole thing from the comfort of your own home.
There are loads of way to watch the nuptials, from watching it on regular old cable television at home, to streaming it from the comfort of your own bed on a laptop, to viewing parties and even watching it at a movie theater in some cases. It's going to get going crazy early on Saturday morning, starting at 4:30 am EST to be precise!
But here's the real question, in my opinion; what sort of accent are you looking for to do the commentary for your viewing experience? Sure, an American accent is just fine, but if you plan on wearing something like, oh, I don't know, a fascinator with your pajamas or something, you might want a nice British accent. Not to mention some insider info delivered by actual locals!
BBC America is probably your best option on this side of the pond, as the British people say while probably eating scones. Sorry for the profiling, but I'm just trying to get into the spirit of things. The network will be streaming the live coverage by BBC One, which is so quintessentially British that it's just called "The Beeb" by people in the know. Here's the good news: the BBC has waived the TV license fee, which means you get to watch it for free!
It's obviously important to get a handle on who will be doing the commentating for the royal wedding, and the BBC plans to use veteran journalists Kirsty Young, Huw Edwards and Dermot O'Leary to give us all the juicy details. Now, there is one other British stream that you might be able to get in the United States, and if you're looking for details this is definitely the one you want to check out: Sky News in the UK is going to live stream the wedding using Amazon facial-recognition technology, so you'll be able to tell the difference between your royals and Markle's celebrity friends at the wedding. It sounds amazing, but unfortunately you'll need a subscription to access the coverage.
However you plan to watch the royal wedding, just know this; you are not alone. You'll be joined by millions of people around the world, most of them in their pajamas, probably. It kind of gives you the warm fuzzies, doesn't it?