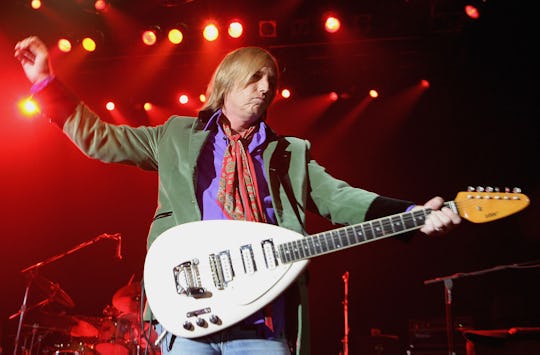 Ethan Miller/Getty Images Entertainment/Getty Images
Tom Petty's Daughter Posted A Beautifully Moving Tribute In Memory Of Her Dad
There has always been something special about the music of Tom Petty. For those of us who are fans, his music acted as something of a window. Into a world that felt like your favorite place on a sunny afternoon, full of possibility. Maybe it was his voice, his optimism, or his kindness. Maybe it was just us, getting to glimpse the world through his eyes for a brief moment. His death hit fans hard on Monday night, but it was his family who was dealt a terrible blow. On the evening of his death, Petty's daughter paid a beautiful tribute to her dad, because, as she wrote, this "magical human" was someone incredibly special to her.
The legendary musician died on Oct. 2 at the UCLA Medical Center at Santa Monica after suffering cardiac arrest at his home in Malibu on Sunday night. He was just 66 years old. Petty was the frontman for Tom Petty and the Heartbreakers, and the band had just wrapped up a summer tour at the Hollywood Bowl earlier to celebrate 40 years together as a band.
When news of the "American Girl" singer's untimely death broke, messages of condolences — and, yes, heartbreak — began flooding social media. From celebrities and fans who were all fans of his. But perhaps the most poignant messages came from Petty's daughter, AnnaKim Violette Petty. Since he passed, she's flooded her Instagram with posts about her dad; photos, comments, and memories. Truly, it's been a virtual love song for her father, who she referred to as a "magical human."
AnnaKim, who is Petty's youngest daughter with ex-wife Jane Benyo (his older daughter, Adria Petty, directs films), wrote of the last time she would ever watch her dad perform at a concert:
One week ago today I was watching my dad play. We showed up rushed to our seats. I got stoned had a beer the lights went dark, sat watching realizing I grew up on these songs, everyone grew up on these songs. This is real American Art made from the roots of real people who deeply love life. My father loves music more than anything and always put music first. It's going to be healing to know I will never go a day without hearing his music. I love his class honesty and how strange and funny he is. Tom Petty is an American Icon because his heart has always put human rights first.
Sean Ono Lennon, the son of music legends John Lennon and Yoko Ono, replied, "Right on."
AnnaKim continued to share pictures of her father with moving captions, words that are shared with all of the millions of music lovers around the world who recognized in Petty an intrepid spirit, a trailblazing fearlessness, and a creative originality that won't soon be forgotten.
"Bad ass mother f⚡️️cker we love u! Magical human," she captioned the above photo.
"He made all his dreams real," AnnaKim captioned the photo above of her father performing.
She went on to share a sweet memory of her father alongside the image below, of Petty as the Mad Hatter, part of the video for his song "Don't Come Around Here No More." She wrote:
As a child mtv was my news I woke up to my parents in bed me sleeping on a sheep skin rug on the floor this video was always on it was surreal to see I love you mad hatter.
At the end of his life, according to a statement, Petty was surrounded by people who loved him. His family, his bandmates — who arrived at the hospital to say farewell to their lifelong friend — and hopefully, the omniscient love of the fans who would miss him. Both the man and his music.
As Bob Dylan — who performed alongside Petty as one of The Traveling Wilburys as well as being a longtime friend — told Rolling Stone, "It's shocking, crushing news. I thought the world of Tom. He was a great performer, full of the light, a friend, and I'll never forget him."
Nor will his daughter. Nor will any of his countless fans.
Watch Romper's new video series, Romper's Doula Diaries:
Check out the entire Romper's Doula Diaries series and other videos on Facebook and the Bustle app across Apple TV, Roku, and Amazon Fire TV.