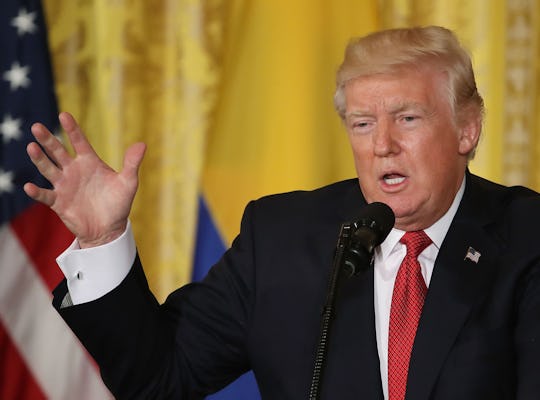 Mark Wilson/Getty Images News/Getty Images
Trump Says The ACA Is In A "Death Spiral" — That's Not True
Bolstered by powerful conservative figures like House Speaker Paul Ryan laser-focused on delivering tax cuts to the rich, President Donald Trump is working to obliterate the Affordable Care Act (ACA), or Obamacare, once and for all. Well, it's unclear how much he's personally working to repeal and come up with a replacement for his predecessor's signature health care law, but he's doing his part by talking and tweeting about what a failure he believes the 2010 legislation to be. But when you're the president of the United States, the words you say (or type) matter — even if they don't translate directly into policy. That's why Trump saying that the ACA is in a "death spiral" and otherwise sowing uncertainty about its future it actually weakening the law.
Which is why his tweet on the subject just before the Republican-controlled House ultimately voted to pass a bill that would repeal and replace major provisions of the ACA was more than likely a calculated move. "Death spiral!" he excitedly declared, linking to a CNBC article about heath insurance company Aetna's decision to pull out of ACA marketplaces in Virginia next year. The company had determined that remaining in the marketplace would pose the risk of a financial losses. But a close analysis of what's going on in the individual insurance market reveals that Trump's very attitude and actions are in part to blame for the disruptions he perceives as cataclysmic.
According to The New York Times, there are lots of reasons that insurance companies involved in the Obamacare exchanges are getting spooked. First, the outlet's Robert Pear wrote, the Trump administration has cast serious doubt about whether or not it will pay the subsidies to insurers that make it possible for them to provide low-income customers with lower deductibles and other out-of-pocket costs. There's also a growing worry among insurers that the administration won't enforce the key Obamacare provision that mandates that most of the population purchase insurance, thus keeping younger, healthier (and, therefore, cheaper to insure) Americans in the insurance pools.
Take, for example, the case of the largest insurer in Maryland. CareFirst is seeking average rate increases of more than 50 percent in the state in 2018, and cited its assumption that the Trump administration will not honor the individual mandate moving forward. "Failure to enforce the individual mandate makes it far more likely that healthier, younger individuals will drop coverage and drive up the cost for everyone else," CareFirst chief executive Chet Burrell told The Times.
What's more, PolitiFact reported in March that Obamacare is not in the midst of a death spiral. In order for it to meet the standard of this industry term, it would have to experience shrinking enrollment, healthy people leaving, and rising premiums. Citing experts, the outlet reported that the approximately 4 percent enrollment decrease through Jan. 17, 2017 from the same point in 2016 did not indicate a "death spiral" because there was no evidence that it was causing premiums to go up.
Additionally, the experts believed that the dip in enrollment had less to do with Obamacare itself than the Trump administration's attempts to sabotage it. For example, the administration initially stopped advertising for Obamacare as its Jan. 31 enrollment deadline approached; It soon restarted the ad campaign admin public backlash.
Americans will only hear more misleading and false statements about the ACA as the Senate works on revising the House-approved repeal and replace legislation and prepares to vote on it — so, it's important to always carefully evaluate claims that Obamacare is failing, because, a lot of times, they probably won't be 100 percent true.