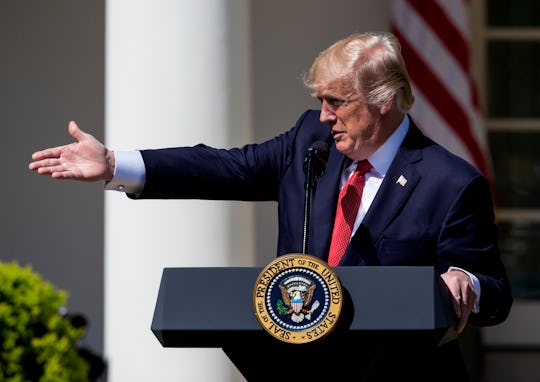 Eric Thayer/Getty Images News/Getty Images
Trump's Budget Could Hurt Domestic Violence Victims
President Trump's proposed budget has had its share of detractors. After all, Trump's plan to slash funding to several integral programs and potentially funnel that money into a bloated defense budget is clearly cause for concern. So far, his critics have called out their concern for the fate of the Meals on Wheels program, the National Endowment for the Arts, and the Corporation for Public Broadcasting, all programs which would be cut under Trump's proposal. But there is one more crucial program that could see a massive hit: Trump's budget could harm the National Domestic Violence Hotline, and with it, victims of domestic abuse.
When Trump budget director Mick Mulvaney announced Trump's proposed budget for 2018, dubbed "America First: A Budget Blueprint To Make America Great Again," he cited a vast number of programs the Trump administration deemed relatively useless. In fact, Mulvaney said, according to The New York Times:
I can't go to the autoworker in Ohio and say please give me some of your money so that I can do this program over here someplace else that really isn't helping anybody.
Which programs did Mulvaney deem "weren't really helping anybody?" If the new budget proposal acts as any sort of barometer, it seems after-school programs for at-risk youths are not worth the effort, as Mulvaney claimed there was "no demonstrable evidence" that they are making a difference (despite this demonstrable evidence that they, indeed, are making a difference). Another "non-essential" program that could be added to the scrap heap by Trump's budget? The National Domestic Violence Hotline.
The 24-hours-a-day, seven-days-a-week hotline, which was created in 1996 as part of the federal government's Violence Against Women Act, "provides lifesaving tools and immediate support to enable victims to find safety and live lives free of abuse," according to its website. The creation of this hotline was the first time that victims could access confidential help through one toll-free number (which, by the way, is 1-800-799-7233). It is a not-for-profit organization that is largely supported by the U.S. Department of Health and Human Services; Trump's budget would cut 18 percent of the department's funding if approved.
What would a decrease in funding mean for the hotline? According to a report by The Huffington Post, it would severely impact potential victims. Citing a statement released by the National Domestic Violence Hotline, a 10 percent cut in funding would mean approximately 180,000 calls from people affected by domestic violence would go unanswered. A 20 percent cut would mean 220,000 calls would not be answered. This could leave victims of domestic abuse without access to resources like support, information on how to get counseling or legal services, or simply someone to help them when they are feeling alone.
Or, as Josie Slawik, a 20-year veteran of answering calls for the hotline, told The Huffington Post, sometimes women are calling because they need immediate, concrete help:
I work during the day, so the majority of calls are from women who are trying to get out of the abusive relationship, with their kids, while their husband is at work. We call shelters all over the place to get them in a safe place before the husband comes home.
Whether or not the National Domestic Violence Hotline will be considered essential by the Trump administration remains to be seen.