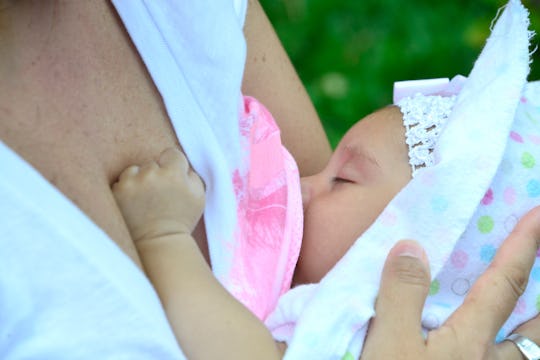 EZEQUIEL BECERRA/AFP/Getty Images
The Global Gag Rule Will Affect Breastfeeding Moms
President Donald Trump has been in office for less than a week. Millions of women marched not only on Washington, but all over the world, to protest the dangerous effect they believe his presidency could potentially have on women's reproductive rights the day after he was sworn in. Critics insisted these women were crazy, paranoid; what did they think could possibly happen once Trump took over as president? Well, let's have a look at how Trump's executive order will affect breastfeeding mothers as a stellar example of the effect his administration could have on women — both in the U.S. and abroad.
On Monday, President Trump reinstated a Global Gag Rule that had been repealed in the early days of the Obama Administration in 2009. Trump's executive order means that will financial aid will be cut off for any foreign individual or organization that even mentions abortion as a family planning option for women (it's important to note that the Helms Amendment, in place since 1973, already ensured federal funds could not be used for abortions abroad), even though many of those organizations do not provide abortions. Trump's Press Secretary Sean Spicer explained that the Global Gag Rule is meant to end the possibility of taxpayers dollars being used "to pay for the performance of abortion as a method of family planning or to motivate or coerce any person to practice abortions," even though that possibility only existed if the mother's life was being threatened by the pregnancy.
Romper has reached out to President Trump's team and is awaiting a reply.
Here is what Trump's executive order could mean for breastfeeding mothers across the world: According to the American Congress of Obstetricians and Gynecologists, the policy would "violate basic medical ethics by jeopardizing a healthcare provider's ability to recommend appropriate medical care."
American dollars were not being spent on abortions through foreign aid to begin with, but the heavy restrictions this gag order (also known as the Mexico City policy) places on clinics worldwide who are offering other vital services has been well documented. As an example, when the Global Gag Rule was in effect during former President George W. Bush's time in office, the Planned Parenthood Association of Ghana lost $200,000 of American funding in 2003. The loss of those funds meant the nursing staff had to be reduced by 44 percent. Those key staff members were offering a variety of services, including family planning and breastfeeding aid to new mothers.
I don't think we can say this enough; if the intent of the global gag order was truly meant to cut off financial aid being used for abortions, it was superfluous. The Helms Amendment has been in place for 43 years. The reality is, the funds were being used (particularly in developing countries) to assist organizations that provide family planning, medical services, and HIV prevention for women. If these organizations refuse to be silent, thousands of women — and their newborns who benefitted from healthcare after birth — could become sick and die as a result of Trump's decision.