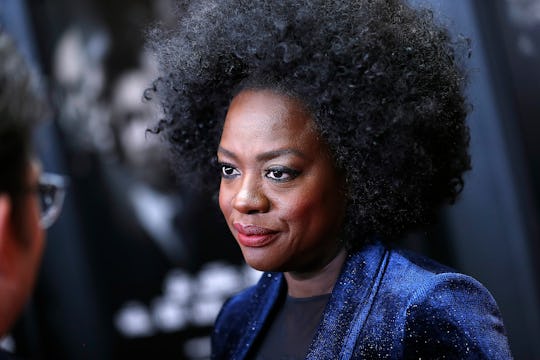 John Lamparski/Getty Images Entertainment/Getty Images
When Viola Davis Is Dealing With Mom Guilt, Here's What She Tells Herself
I sometimes fool myself into thinking I'm past the point of parenting where I need a mentor. My kids are mostly grown, and I like to think I'm rather a pro at this point. But the truth is, there's still this thing I do on the daily that might be wrecking parenting for me. Guilt. I feed it. I think I might love it in some twisted way. I wear it like a coat I have no intention of shrugging off anytime soon. And I guess I need a mentor, because the way Viola Davis combats mom guilt should be absolute required reading for guilt junkies like me.
Davis and her husband, fellow actor Julius Tennon, are parents to 7-year-old daughter Genesis. But of course, Davis is also an incredibly busy actress who works a lot. And just like so many of us moms, working or otherwise, she has to really battle that old mom guilt. It's the classic juxtaposition of trying to figure out how to be a mom while also honoring your individual self who has passions and goals beyond parenting. So what does the How To Get Away With Murder actress deal with mom guilt when she's working?
Simple. She forgives herself.
Davis told Us Weekly that she pretty much "always" experiences mom guilt when she leaves her daughter to work, but she;s come up with a deliciously simply mantra to help her:
I forgive myself. I forgive myself daily.
It might seem like such a simple thing, but forgiving yourself isn't as easy as it sounds for many people. So it helps to have a powerful, intelligent, talented badass like Viola Davis to remind those of us who struggle daily with mom guilt that the key here is just forgiveness. If I could get a recording of her saying that in my ear for when I forget, that would be great.
Davis' decision to forgive herself on a daily basis is also an important example to set for her daughter. And forgiveness isn't the only lesson Davis is imparting on her little girl, who she adopted in 2011. The Widows actress also wants to make sure Genesis doesn't spend her life apologizing, as she said in her 2016 TIME 100 speech, as per Parents:
What I've been telling my daughter lately is to stop apologizing. I think that women, we're at this huge point in our lives, in history, where we need to step into our power and not give it over to anyone or apologize for it. And understand that in whatever we do, we deserve to be there and we deserve to have a voice.
I might be a grown mother of four sons, but I think I'm as desperately in need of Viola Davis' wisdom as the lucky young girl she is raising to become a woman. I think there are plenty of other moms out there who could benefit from her advice.
Forgive yourself. Stop apologizing. And stop feeding your guilt... it's been fed enough.