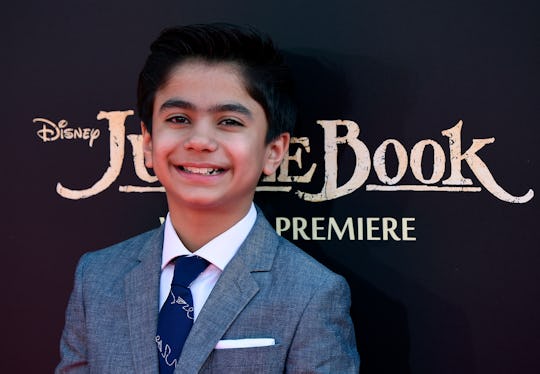 Frazer Harrison/Getty Images Entertainment/Getty Images
How Was Neel Sethi Discovered? Director Jon Favreau Found The Perfect Mowgli
As The Jungle Book retains its number one spot at the box office for the second weekend in a row, fans and critics have found the previously unknown actor playing Mowgli — Neel Sethi — to be an absolute delight on screen. How was Neel Sethi discovered? Like a lot of big Hollywood films, it all came down to what's known as a "cattle call" in casting: Hundreds of (in this case, more than 2,000) child actors showed up to audition for the coveted role of Mowgli. The Jungle Book Director Jon Favreau noted that, of the many "cookie-cutter" auditions, Sethi's really stood out: "He had a little spunk and some real swagger," he said during a press tour for the film.
Incredibly, The Jungle Book's Mowgli is not only Sethi's breakout role — it's actually his first acting gig, ever. Favreau is no rookie when it comes to picking stellar casts for his films, including Iron Man and Elf: Could you even imagine any other actor playing Will Ferrell's Buddy or Robert Downey Jr.'s Tony Stark? (Actually, in the latter case, I'm pretty sure it's impossible to find another Iron Man actor because I'm almost 100 percent convinced Robert Downey Jr. is actually Tony Stark in real life.)
The 12-year-old Indian-American hails from New York City and his discovery plays out like a classic Hollywood story. Sethi had never read The Jungle Book by Rudyard Kipling; only after his audition did he buy a copy and read it for the first time. He'd also only ever seen Disney's 1976 animated feature once before his audition. And yet, Favreau was blown away by his performance during the auditions. When it was announced in 2014 that The Jungle Book's Mowgli would be played by Neel Sethi, Favreau told the Oh My Disney blog:
Casting is the most important element of any film and finding the right kid to play Mowgli was imperative. Neel has tremendous talent and charisma. There is a lot riding on his little shoulders and I'm confident he can handle it.
But what about life after The Jungle Book? What's next for the 12-year-star who's suddenly found himself a Hollywood darling? "I was thinking of being a dentist when I grow up," the candid child actor told The New York Daily News earlier this month. That's right: Neel Sethi just wants to be a dentist — despite the oodles of cash coming in from The Jungle Book's global box office success right now. To be fair, both of his parents are dentists, so I can't fault him for sticking to what he knows.
That said, Disney has confirmed there will be a sequel to its current blockbuster hit — but whether or not Sethi will star in The Jungle Book 2 hasn't been announced. Here's hoping he is, because that kid is going places.