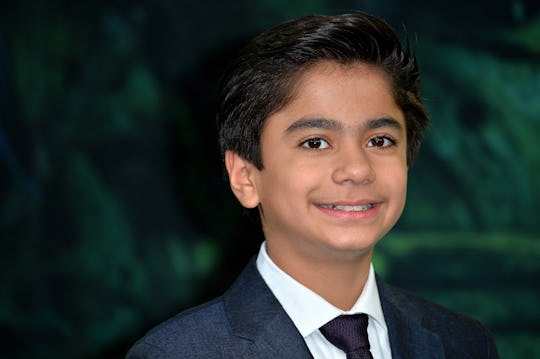 Anthony Harvey/Getty Images Entertainment/Getty Images
Will Neel Sethi Return For A 'Jungle Book' Sequel? He's Definitely Interested
Actor and newcomer Neel Sethi may only be 12 years old, but the young actor has already made quite a name for himself by starring in Disney's The Jungle Book, and, he seems to be thinking of big plans for the future. The Jungle Book, directed and written by Jon Favreau and Justin Marks, premiered in North America and a few other locations around the world last Friday to rave reviews. And questions about whether Sethi will return for a Jungle Book sequel have already started to circulate, because his performance was seriously impressive.
In an interview with the Independent, Sethi, who plays the character Mowgli, the "man cub" raised by animals in the jungle, said he would like to play Mowgli again, and perhaps some other, very cool-sounding (if you ask me) superhero characters.
"I want to do Jungle Book 2," Sethi said. "I don't know what Disney is thinking ... I want to keep playing Mowgli, but I also want to be a new superhero [his voice has become even more excited]. One [no one] knows about yet. I don't know out of DC and Marvel, I want to be a mix!"
Well according to The Hollywood Reporter, Disney is already preparing for a sequel for the live-action film, which features a star-studded cast of voice actors, including, Idris Elba, Bill Murray, Ben Kingsley, Lupita Nyong'o, and Scarlett Johansson.
Judging by fan and critic reviews, Sethi apparently did an incredible job — especially considering he told Independent that he filmed in front of "all blue screen" and that there "was no need for a jungle."
"We didn't go out to the jungle at all," Sethi said. "I was just in New York — that's where I live — and flew to LA and that was just it. It was all blue screen so there was no need for a jungle. Sometimes there was set there; anything I was touching or reacting with was actually there. They had dirt, and soil, and grass, and trees. "
Well, regardless of what actually happens with Sethi's casting in a sequel for The Jungle Book, it seems pretty clear that this definitely won't be the last time we'll see this young actor shine. Especially since he seems pretty enthusiastic and motivated about his future career. And you might say, starring in a film that, according to Deadline, grossed $4.2 million on its opening preview night isn't a bad start.