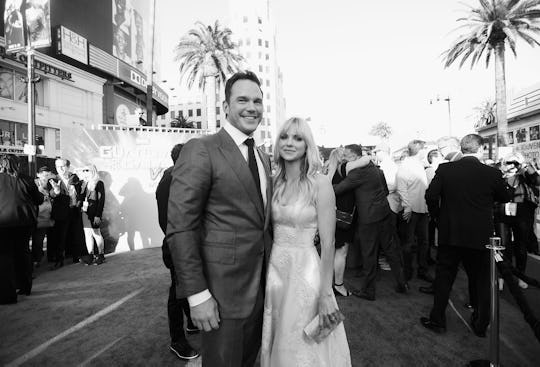 Charley Gallay/Getty Images Entertainment/Getty Images
These Quotes Say A Lot About How Anna Faris & Chris Pratt Will Co-Parent Jack
After eight years of marriage, one of Hollywood's most adorbs couple is legally separating — and their split involves more than just the two of them. How will Anna Faris and Chris Pratt co-parent? Faris and Pratt announced their separation via a joint statement on Facebook on Sunday. In their statement, they acknowledged the inevitable impact their separation would have on their 5-year-old son, Jack, saying, "Our son has two parents who love him very much and for his sake we want to keep this situation as private as possible moving forward."
The pair are very public in their adoration of their son. Pratt shared an emotional memory when his son was born nine weeks premature, weighing just 3 pounds, 12 ounces at birth, at the March of Dimes Celebration of Babies in 2014, according to Variety. "I made promises in that moment about what kind of dad I wanted to be and I just prayed that he'd live long enough that I could keep them," Pratt said. Likewise, Faris has expressed how fiercely protective she is of her son, telling HuffPost Live in 2016, "We want Jack to have as normal of a childhood or at least a similar childhood as we had."
While neither Faris nor Pratt has spoken publicly yet about any kind of co-parenting plans, fans can get a pretty good idea just based on their public comments about parenting, and their hilariously honest social media accounts.
Faris has been open about her experience with motherhood, including the incredibly difficult early months. When their son came nine weeks early, Faris and Pratt were told at the time to prepare for the possibility of raising a special-needs child, according to GQ. "And we felt like it was devastating, but it also felt like, you know, we can do this," Faris said at the time. In an eerily prophetic quote from 2015, Faris told Redbook, "It's one of those things that drives you apart or makes you closer," regarding their son's early entree into the world.
Faris is the kind of mom who keeps it real, often documenting all of the messy hilarity of motherhood on Twitter and Instagram. For Faris, she seems to take the challenges of parenthood in stride and with a broad sense of humor. But what about Pratt? Faris called him "strict," with the caveat that "he's also incredibly fun, incredibly loving." Pratt has also opened up about fatherhood, sharing some of the challenges they've faced raising a headstrong — yet exceptionally polite — child on Ellen in 2015: "It's super frustrating because you're like, 'Jack, I think it's time for you to go to bed.' And he's like, 'I thought about it and no thanks, Dad. Not right now.'"
Speaking to HuffPost Live, Faris has said that since their son was born, the two have learned to "live a little less selfishly." It's clear that no matter the challenges ahead as they navigate co-parenting together, they are up for the task and are ultimately committed to their son Jack's wellbeing and happiness.