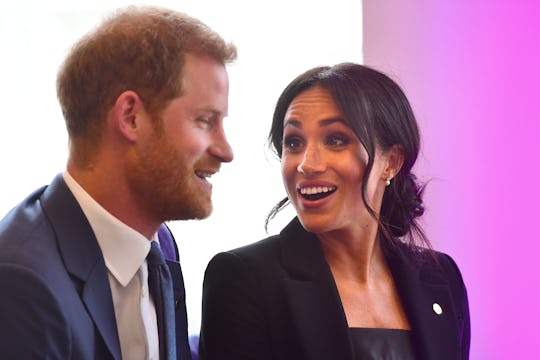 WPA Pool/Getty Images Entertainment/Getty Images
Meghan Markle Is All About Celebrating Prince Harry's Birthday In Style
Prince Harry is officially 34 years old. The youngest son of Prince Charles and the late Princess Diana has had some pretty serious life changes since his last birthday; he's a married dude now, for instance. Which is saying something after he was considered one of the most eligible bachelors on the planet for the past decade-ish. Now that he's married, I suspect his birthday celebration might look a little different than it did in the past. Luckily for him, he's married to Meghan Markle. And if you're curious as to how Markle will celebrate Prince Harry's birthday... remember she once ran a lifestyle site that offered tips on just this sort of thing.
Meghan Markle and Prince Harry were married on May 19 at St. George's Chapel in Windsor Castle after dating for about a year and a half. Which means that she presumably celebrated his birthday with him last year as well... but this is her first time celebrating as a member of the British monarchy. She is now the Duchess of Sussex, after all, which means her life looks pretty different. The Queen of England now gets to tell her what kind of nail polish to wear, for Pete's sake, so perhaps Markle won't get much of a say in the way she might fete her husband on his birthday?
Perhaps in olden times Markle might have been forced to have the birthday celebrations dictated to her. But not these days, I suspect. She and Prince Harry have become a sort of symbol of the changing of the guard, as it were, a maverick couple who quietly and politely does things their own way. And Queen Elizabeth seems like she's down with it (she was probably transformed by that delicious lemon elderflower wedding cake Markle chose instead of the gross old fruit cake she had to eat at all of the other weddings).
It probably also helps that Markle has a history of enjoying low-key celebrations that won't exactly embarrass the royal family. According to People, Markle shared some insight on her now-defunct website The Tig about how she likes to celebrate her man's birthday. If you're thinking a kegger with some dancing on tables, think again. She's all about handwritten notes, for one thing:
If given the option between fingers to keyboard, or pen to paper, I will always choose the latter. Because amongst the throwback things that I love (a '62 porsche speedster à la Dylan McKay in 90210, a bevy of Vargas girls, a Busby Berkeley film, or cooking over a charcoal grill), what trumps all is my love of writing (and receiving) a handwritten note.
Markle is also a fan of simple pleasures like holding hands and cooking delicious food for her guy, according to People:
Let's discuss the simple pleasures in life: holding someone's hand so seamlessly that you can't decipher their fingers from your own, fresh baked bread smeared with briny French butter, a smile that says you are endlessly adored, the sizzle and smell of sautéing onions, and finding the perfect book.
Whatever she does to celebrate, you know she's going to make him feel special. And I hope Prince Harry does something to make up for the fact that Markle spent her 37th birthday last month hanging out at his friend's wedding. Not that there's anything wrong with that... they did get to hold hands and everything, just like Markle likes it. Whatever these two do to celebrate each other, you get the sense that they're still at that lovely stage when every day feels like a birthday of some sort.
I'm not jealous, so don't even suggest it.