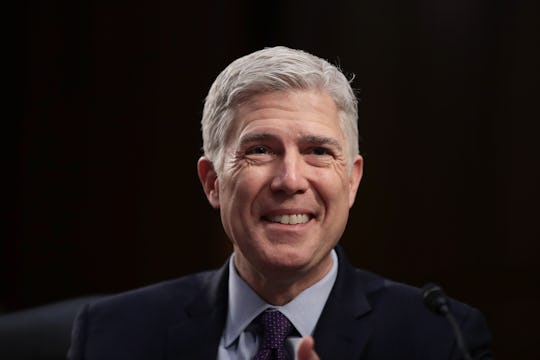 Drew Angerer/Getty Images News/Getty Images
How Will The Russia Investigation Affect Neil Gorsuch?
This week, Judge Neil Gorsuch went through confirmation hearings to be appointed to the Supreme Court. But in the midst of the hearings, there have been some doubts about whether it is appropriate to appoint a judge nominated by President Donald Trump, who is currently under investigation by the FBI regarding ties to Russia. How will the Russia investigation affect Neil Gorsuch's confirmation?
On Monday, the FBI revealed it was investigating whether members of President Trump's campaign worked with Russia to persuade the 2016 presidential election. The news broke the same day as the first day of Gorsuch's confirmation hearing. Some Democratic leaders felt that Gorsuch's confirmation should be pushed back until after the FBI investigation is complete.
The White House did not immediately respond to Romper's request for comment.
"Neil Gorsuch is up for a lifetime appointment to the Supreme Court from a President whose campaign is under FBI investigation," Senator Elizabeth Warren wrote on Twitter in opposition to the upcoming confirmation. Senate Minority Leader Chuck Schumer was also in agreement with Warren. "It is unseemly to be moving forward so fast on confirming a Supreme Court justice with a lifetime appointment while this big gray cloud of an FBI investigation hangs over the presidency," Schumer said in a statement. He added:
You can bet, if the shoe were on the other foot and a Democratic president was under investigation by the FBI, the Republicans would be howling at the moon about filling a Supreme Court seat in such circumstances.
Despite the protests, the confirmation hearings have proceeded as scheduled. But the investigation has only made emphasized the need to vet Gorsuch to make sure he can be impartial with President Trump as president. Sen. Richard Blumenthal was one of the Senators who questioned Gorsuch on whether he can be impartial in regards to the FBI investigation of the Trump Administration. On the first day of hearings, he told Gorsuch, according to USA Today:
The possibility of the Supreme Court needing to enforce a subpoena against the president is no longer idle speculation ... So the independence of the judiciary is more important than ever, and your defense of it is critical.
Republican leaders also acknowledged that impartiality is extremely important in appointing a new Justice. "No matter your politics...you should be concerned about the preservation of our constitutional order and the separation of powers," said Judiciary Chairman Chuck Grassley, USA Today reported.
But aside from the concerns over the Russia investigation, Democrats plan to filibuster Gorsuch because they feel the Supreme Court seat was stolen, since Republicans refused to hold hearings for President Barack Obama's nominee, Merrick Garland, for nine months.
Gorsuch needs 60 votes to advance, which would require eight Democrats to vote for him. No Democrats have announced support for him, The Hill reported.
On the Senate floor Majority Leader Mitch McConell expressed his frustration over whether Democrats would support any GOP Supreme Court nomination, The Hill reported. "If Judge Gorsuch can't achieve 60 votes in the Senate, could any judge appointed by a Republican president be approved with 60 or more votes in the Senate?"