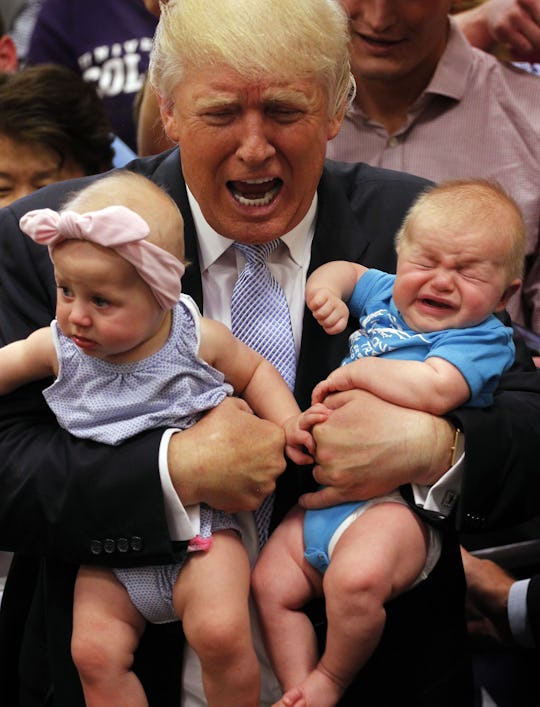 Joe Mahoney/Getty Images News/Getty Images
Trump May Have A Big Impact On Breastfeeding Moms
It's official; Donald J. Trump is now the 45th President of the United States. While all over the country, there are certainly people rejoicing on this weekend of President Trump's inauguration, that isn't the case for everyone. Some, parents especially, are particularly concerned with President Trump's plan to repeal the Affordable Care Act. For instance, how will Trump's new plan affect breastfeeding moms? Historically speaking, the newly-minted president hasn't exactly been supportive of breastfeeding moms in the past.
On Saturday morning, the day after his inauguration, Trump's first order of business was to sign an order freezing new regulations for Obamacare. Among other things, the order Trump signed called for "a free and open market in interstate commerce for the offering of healthcare services and health insurance." While the White House hasn't given further details at this point, experts believe Trump's administration is looking towards ending "essential benefits" like mental health benefits and maternity care. The ACA offers breastfeeding benefits, like breastfeeding support, counselling, and coverage of breastfeeding pumps. Under Obamacare, health insurance providers were required to provide breast pumps to new moms, whether those breast pumps were rental or new. Will this change once Trump has repealed Obamacare and replaced it with his own version?
As we all wait to find out what Trump and his Cabinet have in store to replace Obamacare, there are little glimmers of hope on the horizon for parents. Trump aide Stephen Miller spoke to GOP House staff earlier this month to request new policies that would make child care more affordable. And Trump's daughter, Ivanka has been vocal in her support of women and mothers specifically. While she recently dismissed rumors that she would become the de facto first lady in place of Melania, Trump's wife, as "inappropriate", it's no secret that she has her father's ear.
That being said, President Trump has a history of being, shall we say, less than supportive of breastfeeding mothers. Attorney Elizabeth Beck told CNN that Trump reportedly had a "meltdown" when she asked for a break during a deposition to use a breast pump in 2011.
He got up, his face got red, he shook his finger at me and he screamed, 'You're disgusting, you're disgusting,' and he ran out of there.
Trump did not dispute Beck's allegations that he called her "disgusting." Instead, he took to Twitter to mock her.
The battle to normalize public breastfeeding has been an arduous, uphill battle. It was getting better for breastfeeding moms, thanks in part to the Affordable Care Act that guaranteed women a clean, private, accessible spot to pump breast milk. If the 45th President of the United States thinks pumping breast ilk is "disugsting"... it can't bode well for working moms.