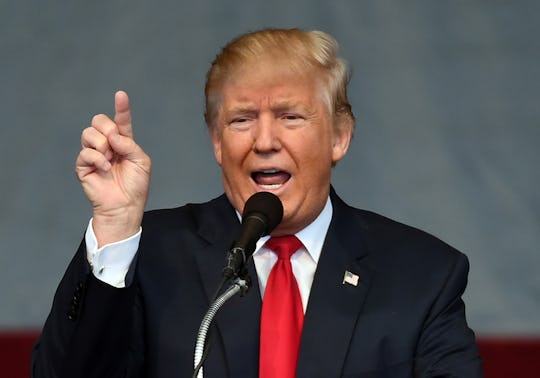 Ethan Miller/Getty Images News/Getty Images
How Will Trump's Lewd Hot Mic Comments Affect The Next Presidential Debate?
Early Friday afternoon, The Washington Post published hot mic audio of Donald Trump speaking with Access Hollywood's Billy Bush, lewdly describing a woman he had tried to have sex with. The comments are appalling in nature but, sadly, are not surprising of the Republican presidential candidate; who has a history of being misogynistic and derogatory towards women. Social media was ablaze with commentary and reactions, leaving many voters and potential voters wondering, "How will Trump's lewd hot mic comments affect the next presidential debate?" After all, the recorded comments do not help Trump prove that, despite his fervent promises and constant assurances, he "respects all women."
In the tape contains audio of a conversation shared between Trump and Bush on a bus, as the two were traveling to film a segment about Trump's upcoming cameo on the daytime soap opera Days Of Our Lives. In the recording, Trump describes a failed attempt to sleep with a married woman, a reportedly several months after being married to his third wife, Melania Trump. "I did try and f--- her. She was married," Trump says. The GOP presidential candidate goes on to say, "I moved on her like a bitch, but I couldn't get there. And she was married. Then all of a sudden I see her, she's now got the big phony tits and everything. She's totally changed her look."
If you can believe it, it gets worse. Trump goes on to describe to Bush what he is attracted to, as if he is incapable of controlling himself or his actions when in the presence of a woman he considers to be attractive.
"I've gotta use some tic tacs, just in case I start kissing her," Trump says."You know I'm automatically attracted to beautiful — I just start kissing them. It's like a magnet. Just kiss. I don't even wait."
Anyone who even remotely understands consent and what it means, can't help but find a particular problem with Trump's comments, as he seems to think of himself somehow entitled to the affections of women he believes to be beautiful. Without asking, eh touches them or, in his words, doesn't "even wait" to kiss them; essentially bypassing a necessary conversation about consent.
The second presidential debate between Trump and his rival, Democratic presidential nominee Hillary Clinton, is scheduled to take place Sunday, Oct 9 at Washington University in St. Louis. The debate is a town hall style format, meaning half the questions will come from moderators Martha Raddatz and Anderson Cooper and half the questions will come from an audience of undecided voters.
During the first presidential debate, Clinton took Trump to task on his comments about women, going so far as to point out his misogynistic attack against former Miss Universe Alicia Machado. During the 90 minute debate, Clinton used his past comments about Machado's looks and ethnicity, to prove that he is not — as he so passionately describes himself to be — a champion for women.
And one of the worst things he said was about a woman in a beauty contest — he loves beauty contests, supporting them and hanging around them — and he called this woman 'Miss Piggy,' then he called her 'Miss Housekeeping' because she was Latina.
Clinton has already responded to The Washington Post article and leaked recording, taking to witter. to urge voters to keep the Republican presidential candidate from securing the presidency.
Of course, no one knows for sure what will happen during the second presidential debate, however there's no denying that it's safe to assume it will be just as contentious — and just as eye opening (hopefully) — as the first.