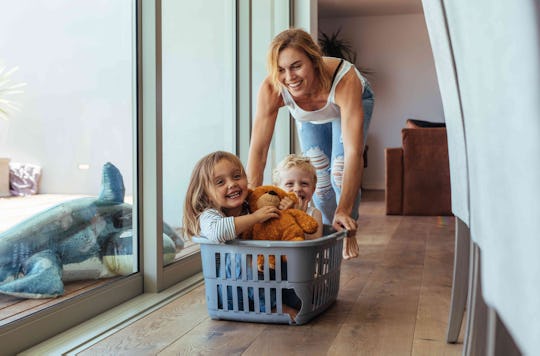 Jacob Lund/Shutterstock
How You'll Parent Your Second Child, According To Your Zodiac
When you decide to have another child, you're going to need all the help you can get. And while I don't put a ton of stock in astrology, if looking to the stars to figure out how to parent a second child helps in the slightest then, mama, run with it.
After you've already had one kid, you probably know what kind of parent you'll be, but I won't lie: two is going to change things. The dynamic you've established as a family unit? Completely out the window. That's not a bad thing (even though, like, you just kind of got a handle on things)! You'll find a new dynamic! But it's going to take time and effort, and your personal style is going to affect just how it all goes down. Maybe, just maybe, astrology can help you make sense of it?
Maybe it's my serious, practical Capricorn sun sign, but I think of astrology not so much as the written-in-stone-truth as it is a way to help you think about things in a fresh new way. But the Gemini moon sign in me is like: "Astrology yaaaaaas! Collective consciousness! Astral plains! Energy fields! Wooooo!"
What can I say? I am a contradiction wrapped in an enigma wrapped in a puzzle wrapped in a kaftan.
So, from my Gemini side, I urge you to take the following as a guide to your inner self. You know, kind of like a peek into archetypes of personality and how you might respond to parenting a second child. And from my Capricorn side, well, take the following with several large grains of salt. Pretend they're crystals, if you'd like.