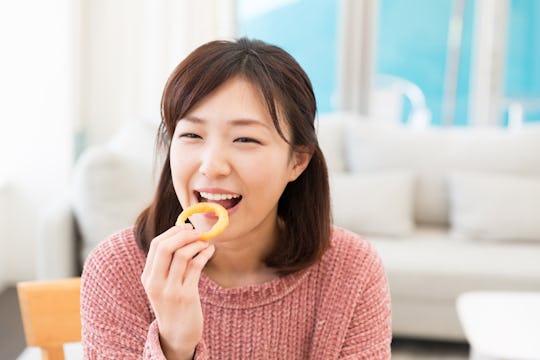 Shutterstock
Turns Out, Your Brain *Hates* When You Don't Reward It, According To Experts
Did you finally turn in that big project at work? Earn a raise? Smash your goal at the gym this month? Whether you treat yourself with that bougie pair of shoes you've been lusting after or a favorite cheat meal, you may wonder how your brain reacts when you get a reward. Because really, why do cute shoes or cheese fries make you so happy? Turns out, the ways the brain reacts to the rewards you give yourself can help you (or hurt you) when trying to meet your goals in the future.
Jenna Renfroe, PhD, ABPP, board-certified neuropsychologist at Baptist Health in Jacksonville, Florida, tells Romper in an interview that the brain's reward system probably developed early on as a survival mechanism. "Why we have a reward system is interesting from an evolutionary perspective. It's what motivates us and drives us, so it lights up and fires for things as basic as food and quenching of thirst to socialization, like interactions with a loved one or friend. We need something wired in our brains to motivate those behaviors for survival, at a basic level," she explains.
Today, the reward system doesn't have to drive you to survive. However, it can help you achieve your goals at work, the gym, or a hobby. "The reward system is about memory and motivation — it helps us in regard to performing well in everyday life," says Joey Gee, MD, neurologist at St. Joseph Health in Irvine, California, in an interview with Romper. "People do things subconsciously or overtly to find validation, to know they're doing something right and well."
Six things happen in the brain immediately after a reward and over time. It all starts with a surge of dopamine.