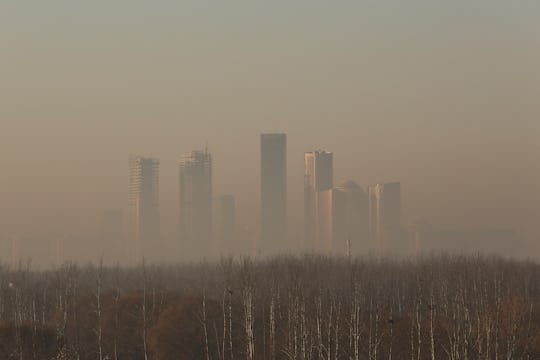 Lintao Zhang/Getty Images News/Getty Images
Your Kid's Toys Might Be Contributing To Deadly Pollution
When gifting a child a new toy for Christmas or their birthday or just because, there's usually nothing but joy and goodwill involved. However, the results uncovered by a new study may give parents a good reason to second-guess the toys they're giving their children. The study, set to be published in the journal Nature on Thursday, found Western consumption of cheap kids' toys are contributing to pollution deaths around the globe — and that's bad news for everyone.
Researchers found that air pollution causes nearly 3.5 million deaths a year in countries where cheap toys, clothes, and phones are produced for export. The production of those goods, which eventually come to be sold in the United States and western Europe, is responsible for at least 22 percent of those deaths, according to The Guardian. That's 762,400 deaths a year caused by pollution-related illnesses such heart disease, stroke, lung cancer, and chronic obstructive pulmonary disease, according to Phys.org.
Less stringent pollution controls in developing countries often means cheaper production cost, and thus cheaper products sold in developed countries. But those cheaper prices come at a human cost, and the effects aren't isolated to the countries producing those items: About 12 percent of early deaths around the world can be chalked up to pollutants emitted elsewhere in the world, according to the study. Researchers found that the pollution produced in China alone is responsible for 64,800 deaths in other regions, including at least 3,000 deaths in western Europe and the United States.
This is the second study this month to point out troubling links between premature deaths and pollution. Earlier this month, the World Health Organization released two new reports that linked one in four child deaths worldwide to pollution and other environmental risks, such as secondhand smoke, unsafe water, and inadequate hygiene.
"A polluted environment is a deadly one — particularly for young children," WHO Director-General Margaret Chan said in a statement at the time. "Their developing organs and immune systems, and smaller bodies and airways, make them especially vulnerable to dirty air and water."
The solution to all of this isn't simple, of course. Industrial hot zones with looser regulations risk losing economic benefits if they tighten regulations. But in the meantime, those living in developed countries can alter their shopping habits to be more mindful of the hidden costs behind cheap toys, cheap fashion, and cheap electronics. Consumers can start by buying less and making conscious choices that support greener alternatives.
"We need to move our lifestyles away from cheap and wasteful," Qiang Zhang, a co-author from Tsinghua University, Beijing, told The Guardian. For the sake of tens of thousands suffering the consequences of pollution — many of them young children under the age of 5 — that's advice we need to heed, starting now.