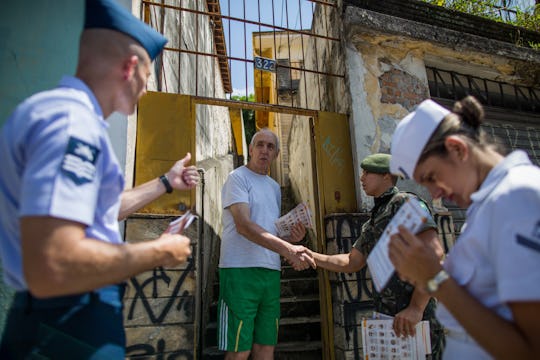 Victor Moriyama/Getty Images News/Getty Images
How Zika Is Affecting Military Women Across The United States & Abroad
So this week, obviously we are all thinking about our Olympic athletes heading to Rio for the 2016 Olympic Games. We're thinking about the water quality (or lack thereof), and most of all we're thinking about the Zika virus. How will it affect our beloved athletes? While it's natural and fair to worry about them, we can sometimes forget about another group of people who are vulnerable right now; our troops. The question of how Zika is affecting military women in particular, and how the government plans to protect these women, needs to be asked right now.
According to a report released on Monday by The Military Times, more than 40 members of the U.S. military have contracted the Zika virus. This number includes one pregnant woman. The Zika virus, which is spread by the bite of an infected Aedes mosquito, is especially dangerous for pregnant women and their unborn children, as the virus can spread to the fetus and cause a host of congenital disorders.
The most prevalent of these disorders is microcephaly, a condition that affects the growth of a child's brain and can in turn cause neurological and motor skill difficulties. So far, the Department of Defense has not released any information on the medical status of the pregnant woman or her unborn child. The DoD also reported that, on top of the members of U.S. military who have been affected, seven other family members have also contracted the virus. All cases were contracted outside the continental United States.
In response to this recent report, the Pentagon issued a statement that said in part,
We have been taking proactive steps for months to help mitigate the threat of Zika and other mosquito-borne illnesses in the continental United States and overseas. We will continue working closely with our federal, state and local partners to ensure consistent reporting of potential cases and unity of effort in reducing the virus' impact on local communities.
All service members have been told to wear insect repellent, of course, and to avoid any areas that are known to be mosquito-infested. There has also been a mosquito eradication system put in place in the 200 military bases across the globe where Aedes variety mosquitoes can be found. But what does this mean for women in the military, especially the women who are pregnant or could become pregnant? According to a report by The New York Times, The Pentagon has given pregnant service members the option to relocate.
"The Pentagon has informed service members in affected areas to take precautions ... and pregnant women in affected areas are being given the option of relocating," the outlet reported. "Military personnel in affected areas are advised to use insect repellent and to wear appropriate clothing."
While the world waits for a vaccine to the Zika virus, the military women serving abroad remain at risk.