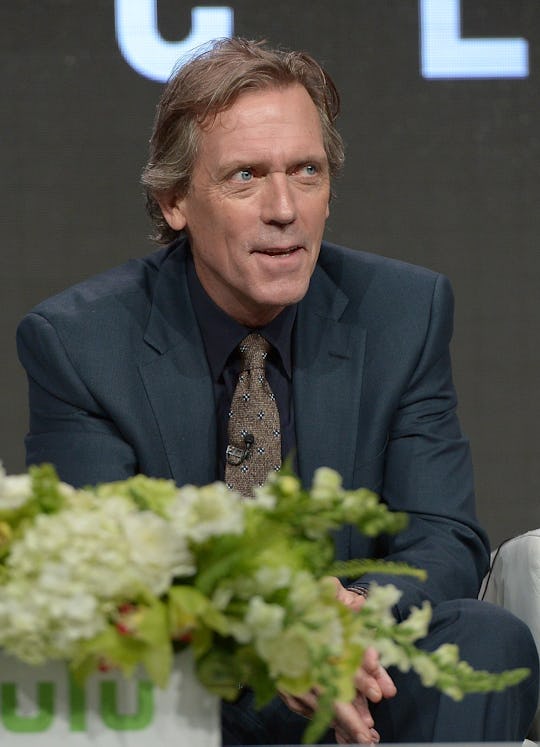 Charley Gallay/Getty Images Entertainment/Getty Images
Hugh Laurie Made A Trump Joke At The Golden Globes
Hugh Laurie won Best Supporting Actor in a Limited Series at the 2017 Golden Globes for his role in AMC's The Night Manager, and when he got up to accept his award he made a joke that got quite a few laughs – and was very timely. Hugh Laurie's anti-Trump joke at the Golden Globes didn't mention Trump by name, but everyone knew just who Laurie was referring to.
He started by thanking the Hollywood Foreign Press Association for the award, calling it an amazing honor, then said, "I suppose more amazing for the fact that I'll be able to say I won this at the last ever Golden Globes." Cue laughter. "I don't mean to be gloomy," Laurie continued, "but it has the words 'Hollywood,' 'foreign,' and 'press' in the title. I also think to some Republicans, the word 'association' is slightly sketchy."
Laurie then thanked the many people who gave him this opportunity and finished by saying, "I accept on behalf of psychopathic billionaires everywhere."
It definitely wasn't what the audience was expecting, but they shouldn't really have been that surprised. After appearing on the most recent season of Veep, it's clear that Laurie picked up more than a few tips on cutting, but also very funny, political comedy. He's basically an expert now.
Laurie's speech, though sharp and sardonic, was also a relatively light approach to making his feelings known and commenting on the current political landscape at the same time. He was subtle enough that he wasn't openly calling anyone out, and he wasn't cruel either. He was able to effectively balance genuine humor and political commentary.
The audience's laughter might have grown slightly more uncertain by the end of his speech. To be fair, they probably didn't expect it to take that turn. But it just wouldn't have been the Golden Globes without some trenchant political commentary; host Jimmy Fallon made quite a few Trump jokes in his opening monologue, too. Laurie's acceptance speech may not have been where anyone expected an amusing Trump jab to come from, but he still made it work.
Laurie also made sure to thank everyone involved in The Night Manager, including the cast and crew who had brought the miniseries to life along with him. And to be fair, his parting line about psychopathic billionaires may not have been entirely a Trump reference – his character in The Night Manager was a CEO, after all. But the rest of his speech rang loud and clear.