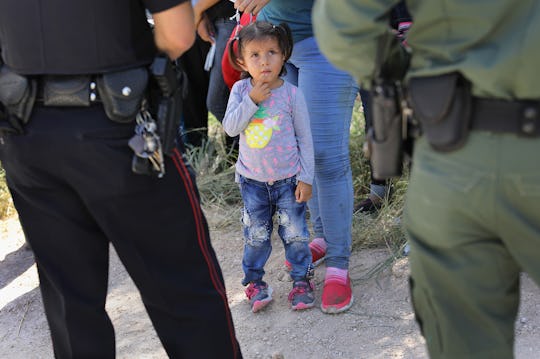 John Moore/Getty Images News/Getty Images
Hundreds Of Immigrant Parents May Have Been Deported Without Their Children
In a court filing Monday, President Donald Trump's administration said that 463 parents of migrant children are no longer in the United States. That means hundreds of immigrant parents may have been deported without their kids, according to The Washington Post. The truth is, the number of parents who were potentially deported without their children as a result of the administration's "zero tolerance" border policy could be a far more shocking number than anyone previously realized.
Just to refresh your memory, the zero-tolerance policy announced by Attorney General Jeff Sessions requires criminal prosecution for anyone coming to the U.S. "illegally," according to CBS News. But asylum cases are getting caught up in the chaos — for instance, people who fled their home countries because of gang and domestic violence no longer have grounds for seeking asylum, thanks to new guidance from Sessions, as reported by The Los Angeles Times.
The zero-tolerance policy was allegedly halted in June because of international outcry about the Trump administration's treatment of immigrant children, Reuters reported. But about 2,500 children were separated from their parents after the policy was announced in April, and although 879 parents have been reunited with their kids, 463 parents have left the country, and right now it's unclear just how many were deported without their children.
In court papers filed Monday, the Trump administration said the cases of the 463 parents are "under review," USA Today reported. And while almost 900 parents have been reunited, and another 538 have been cleared for reunification, there are far too many cases in which reunification will be extremely difficult, if not impossible, if over 450 parents have already been deported while their kids have not.
These separated families are supposed to be reunited by Thursday, Reuters reported. But with all of these parents no longer in the country, government efforts to make those reunifications could prove very challenging.
The progress report about these reunification efforts was sent to U.S. District Judge Dana M. Sabraw, and the report said the 463 cases are "under review" and are not a definitive tally of all immigrant parents who have been deported as their kids stayed in government shelters, The Washington Post reported.
Notably, Sabraw is the same judge who issued the Trump administration the 30-day deadline to reunite as many separated families as possible as quickly as possible, and who temporarily halted deportations of families that have been reunited.
The worst part is, the immigrant parents who were separated from their children may not be eligible to be reunified with them, according to NBC News.
The Justice Department argued to Sabraw that parents who were deported could have been reunited with their children, but many chose to leave them behind to try to seek asylum on their own. But many immigration lawyers said parents may have felt pressured by the form given to them by U.S. Immigration and Customs Enforcement officers that gave them the choice to drop their own asylum cases, be deported, and be reunified with their children, NBC News reported.
On Tuesday, the government is scheduled to brief the court about its progress in reunifying families, and may provide more details about where these 463 parents are. 538 parents have reportedly been cleared for reunions, and are just awaiting transport, according to The Washington Post. That would mean at least half of the separated families will likely be back together by the judge's deadline.
This isn't an issue of politics, and it shouldn't matter whether you identify as liberal or conservative. We should all be demanding immigrant families who were separated be reunited, and it should be incredibly shocking to child advocates across the political spectrum that there are potentially hundreds of kids whose parents are separated from them and were deported — and that the government may not deem them eligible for reunification.
Anyone who cares about kids should want to see these families reunited, and it's appalling that so many of them are facing so many challenges to be brought back together. As this particular immigration crisis continues, people need to be watching closely to be sure everything is being done to reunite every one of these kids with their families.