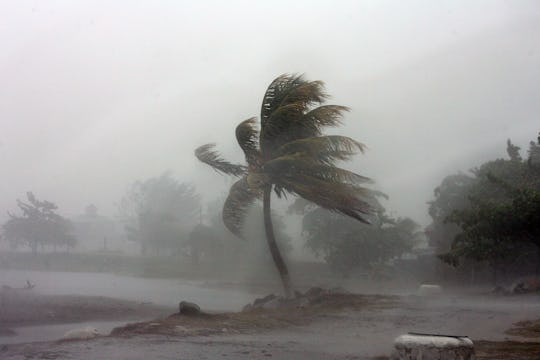 YURI CORTEZ/AFP/Getty Images
Hurricane Hits Central America & It Looks Like More Trouble Is Brewing
Central America could be in for some serious weather within the next few days. Torrential rains continue to cause dangerous flooding and potential mudslides. And just as Hurricane Otto made landfall in Nicaragua, a 7.0 magnitutde earthquake struck off the Pacific coast of El Salvador. That earthquake has triggered a tsunami warning for the area, forcing thousands of Nicaraguans and Costa Ricans to flee their homes to stay out of the storm's devastating path.
Hurricane Otto, believed to be the strongest hurricane to make landfall in Central America since 1934, hit outside the town of San Juan de Nicaragua just after noon on Thursday. Not long after Hurricane Otto made landfall, the earthquake rocked the southeastern coast of Nicaragua. The Pacific Tsunami Warning Center reported waves up to six feet were possible if a tsunami hit. Both Costa Rica and Nicaragua have declared a state of emergency. There have already been three deaths in Panama attributed to Hurricane Otto, but luckily there have been no further reports of death. Neither have there been reports of injuries or property damage. Over 15,000 people have already been evacuated from the affected areas, but many are remaining with plans to "ride out the storm".
Jean Hodgson, a resident of Bluefields, Nicaragua (the closest large center to where Hurricane Otto landed) told The Associated Press:
In our house, we have packed up some things in plastic bags and we went out to buy some provisions, just in case. But if we had to leave our house, we don't know where we could take refuge.
Residents of the small town of Punta Gorda were planning on staying home as well, despite the fact that schools in Nicaragua have all been closed in preparation for the storm. Sarah Pantin explained to The Associated Press:
There is fear, because these kinds of things are scary, but we are praying and doing what the authorities have told us to do.
Hurricane Otto isn't the first hurricane to touch down close to Bluefields, a once-notorious pirate hangout. In 1988, Hurricane Joan (a Category Four hurricane) destroyed the majority of the town's 19th century wooden houses.
As the Category Two hurricane hits the coast, the National Hurricane Center warns of possible mudslides and flooding in the affected areas. While some residents are staying in their homes, others aren't taking any chances. As the storm moves west at nine miles per hour, Bluefields resident Juliana Rojas told CNN:
It scares us, because we are human beings, and you can't play with nature.