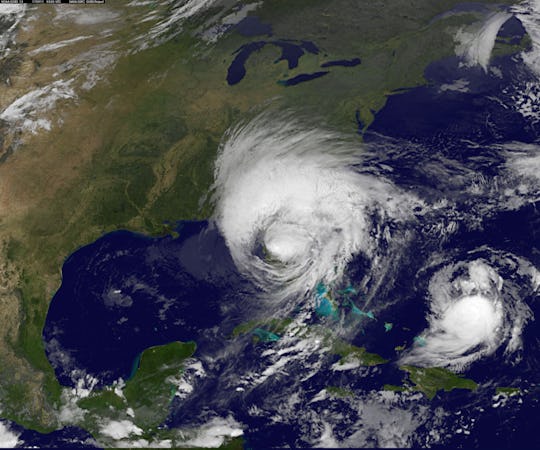 Handout/Getty Images News/Getty Images
Hurricane Jose Updates Show The Storm Might Be Headed For The US
As Hurricane Irma weakened to a tropical storm and more than 6 million Floridians woke up to no electricity Monday, Hurricane Jose updates show the storm's unpredictable path may pose a threat to the U.S. East Coast in the next six to 10 days. Although hurricanes in the western Atlantic Ocean, where Jose is currently wandering about, usually disappear out to sea, the storm is expected to perform a slow clockwise loop, "forcing the hurricane to move west-northwest towards the United States," according to the Weather Underground. However, an above-average margin of error with the tracking forecast means the outlook for Jose is still up in the air.
"Until Jose is farther along on its loop, the models are likely to have large errors, and we should not take too much comfort (or indulge in too much angst) over a particular set of model runs," Weather Underground meteorologist Jeff Masters wrote. He continued:
As Jose approaches the U.S. this weekend, it is uncertain if the hurricane will experience a steering influence from the remnants of Hurricane Irma, which may still be lingering.
First classified as a Category 4 storm, according to CNN, Jose has since been downgraded to a Category 2, with sustained winds of 105 mph.
This latest update is certainly unwelcome news for an already hurricane-barraged United States, which has yet to get very far with recovery efforts in the wake of Hurricanes Harvey and Irma. Combined damage from those storms could reach an eye-popping $290 billion, according to ABC News.
"We believe the damage estimate from Irma to be about $100 billion, among the costliest hurricanes of all time. This amounts to 0.5 of a percentage point of the GDP of $19 trillion," AccuWeather President Joel Myers said in a statement Sunday. "We estimated that Hurricane Harvey is to be the costliest weather disaster in U.S. history, at $190 billion or one full percentage point of the GDP."
Myers continued:
Together, AccuWeather predicts these two disasters amount to 1.5 of a percentage point of the GDP, which will about equal and therefore counter the natural growth of the economy for the period of mid-August through the end of the fourth quarter.
Those numbers could climb even further, considering the 2017 hurricane season isn't coming to an end anytime soon. With more than two months to go, forecasters with the National Oceanic and Atmospheric Administration "are now predicting a higher likelihood of an above-normal season," according to Fox News.
Given the unpredictability of hurricane season, preparing for impact ahead of time can help protect your property and your life. Those who live in Hurricane Jose's potential path — which, again, is still unconfirmed — or in general hurricane territory should develop a natural disaster emergency plan. This includes stocking up on supplies like nonperishable food, water, medicine and a first aid kit. If a hurricane is projected to make landfall near you, keep a close eye on the news and follow any evacuation instructions issued by state and local officials.
This may seem like basic advice, but it could save your life in the event of an emergency. What's more valuable than that?