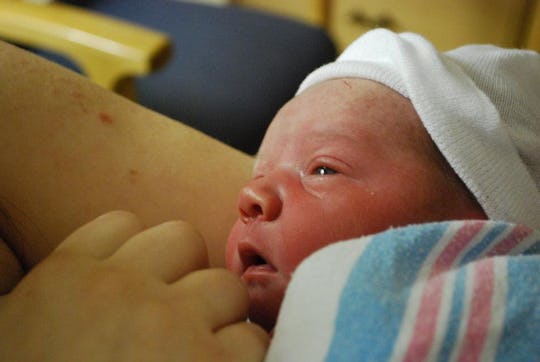 Courtesy of Elizabeth Broadbent
Mother's Day Is Brutal Because I Can't Have Any More Kids
If you recently had a baby, I hide you from my Facebook feed. It's not that I'm not happy for you, or that I don't care about you, or that I don't want to stay friends. I do, I promise. It's just that, right now, I can't stand to see your newborn baby pictures.
Most moms post about six bajillion new baby pictures a day. I understand that. I did the same thing with my three sons. I put up pics of their squishy faces and weird expressions and teensy toes. I shared them being held by their dads, their grandparents, their older siblings. I think I even shared pics of the baby with the dog. But this year, especially as Mother's Day creeps closer, I can't stand to see newborn babies. Because I know I'll never again have a biological one, and it just hurts too badly.
Just after I had my youngest son, Sunny, I was cuddled with him in bed when I stared up at my husband. "Please, just promise me he isn't the last," I said. "Promise me." Bear promised. But we were wrong. For a variety of reasons, my uterus is shut down for good, even though I still yearn for more kids.
There are a few reasons why I can no longer have children, most of which are medical. I get hyperemesis gravidarum, or severe morning sickness, when I'm pregnant, and it gets worse and worse every time. Last time, I was bedridden for three months. I also was diagnosed with gestational diabetes, and developed real diabetes within two years.
Then there's the matter of my psychiatric medications. I take several of them for anxiety, depression, and ADHD, and a few of my medications, such as Abilify, Klonopin, and lithium, are considered unsafe to take during pregnancy. If I were to get pregnant, I would have to get off them immediately. It's not safe for me to do that. It's not conducive to a healthy family life. If I could only cope with the symptoms of my mental illnesses, I think to myself, I could have another baby. But I can't, so I won't. My psychiatrist advises against it.
Now it's about to be Mother's Day. I have my three sons around me. They are wonderful, beautiful, funny, fierce children. They would be enough for anyone, but I still have that ache for more kids.
There are also logistic difficulties preventing us from having more kids. For me to get pregnant again, we'd have to put the kids in school and daycare, and we're committed homeschoolers. I resent that we don't have enough help, or enough money, to hold down the fort for three months. But we don't. And I don't want to send my kids to school.
And now it's about to be Mother's Day. I have my three sons around me. They are wonderful, beautiful, funny, fierce children. They would be enough for anyone, but I still have that ache for more kids.
On Mother's Day, we will celebrate. My sons will pick out presents for me at my hinting and my husband's direction, jewelry or pottery from the local farmer's market. There will be flowers that my husband has picked out. At Mass, the priest will tell all the mothers to come up and get a rose. I will go up. I will know as I do that I will never have another biological child, even though I always thought I would be the Catholic mama surrounded by six or seven. I will remember how I am angry about this, how everyone told me to dream about a big family, and then I had my dream snatched away from me. I will try not to look at the crucifix. I will let the rose wilt in the car.
At brunch afterwards, our friends will all toast the moms, who will be given mimosas. We will stay inside and chat while the guys watch the kids hit each other with foam swords outside. One of the girls has twin daughters somewhere around fifteen months, and I will be jealous of her; my youngest is 3 years old, and he doesn't need me the same way as a fifteen-month-old does. The idea of being needed is inextricable from the concept of motherhood, and I still crave being needed. My children are growing. Their needs wane.
I feel betrayed, on this day more than others, by my own body.
I will pretend to be completely happy. I will accept my children's presents and coo over them. I will wear a pretty dress that I let my middle son pick out, because he likes to do that, but I'll make sure it's a dress with flowers on it, because the youngest prefers that. I will remember that I don't need to worry about breastfeeding access. I will never need to worry about that again, even if we adopt.
We will probably go kayaking afterwards. I will wear my favorite kayaking shirt and pants and booties and gloves and get into my lovely orange boat. My youngest will want to kayak on my lap. I will let him use my paddle, and wonder how small of a baby I could safely put on my kayak, if a sitting six-month old isn't too small. We will sail through the smaller riffles — whee! — and my heart will soar with his joy of it. His joy, not mine. My heart is heavy.
Mother's Day is a celebration of motherhood. It's a celebration of loving, of open arms. I thought my arms would be more open. I thought my body would be more open. I feel betrayed, on this day more than others, by my own body. I feel betrayed by my own mind, a mind that can't function without drugs that are incompatible with pregnancy, and that there is no way to get off them without affecting the children I already have.
That night, before I go to bed, I will nurse my youngest to sleep. This is probably the last Mother's Day I will have a child to nurse. I will cradle him in my arms. I will hold him close. And I will cry, and cry, and cry.