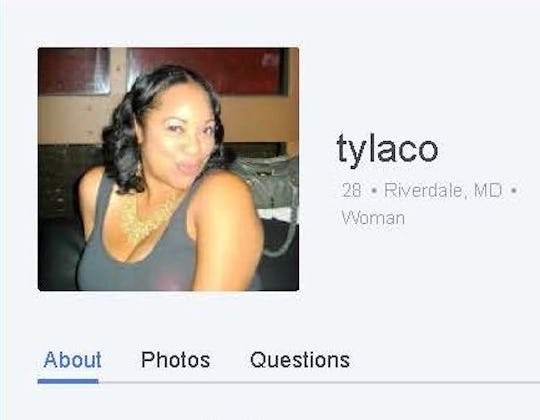 I Checked The "Has A Kid" Box On My Online Dating Profiles, & This Is What Happened
In 2007, I met my husband on a little website called MySpace. (You may have heard of it.) One evening, I was cruising the site for dates, entering all the criteria that mattered to me — height, education, facial hair — when a picture of the man who would one day be the father of my children blowing a noise maker with his nose was so captivating that I knew I had to have him. Eight years together, and I've never once questioned the accuracy of online dating.
It isn't an anomaly anymore when you hear that so-and-so met their fiancé/significant other/booty call on Tinder/OK Cupid/Match/Plenty of Fish. But I wondered if finding those connections is as easy for women with children as it is for those without. If, heaven forbid, I suddenly found myself single, would my profile today be as appealing to a potential partner as it was in 2007 when I didn't have 3-year-old twins attached to my hips?
After assuring my husband that this wasn't some elaborate scheme to cheat on him, I decided to see whether or not checking the "has a kid" box made me more or less desirable in the online dating world.
The Experiment
I created profiles on two online dating sites: Plenty of Fish (POF) and OkCupid. I kept everything on each site exactly the same — my age, body shape, occupation, interests — except on POF, I clicked that I have children. On OkCupid, I clicked that I do not.
Both accounts were active four days.
I chose those sites mainly because they both ask whether or not you have children when creating your profile. In fact, POF gives you several options for this category, including the option of saying you would rather not say whether or not you have children (which — hint, hint — is kind of a dead giveaway that you do).
Although Tinder sounded fun, there isn't a way for potential matches to know whether or not I have children before they decide to choose my photo. I wanted someone viewing my profile to know right away whether or not it stated if I have kids.
Here's what happened when I checked the box, and here's what happened when I didn't.
The Results:
The pure stats:
When I didn't check the box on OkCupid (it looked like I had "no children"), I received 36 messages and 131 likes.
When I did check the box saying that I did have children on Plenty of Fish, I got 65 messages, 99+ "meet me requests" (the exact number is unknown, but from the push notifications from my phone, I'd wager the number higher than 131).
After results like these, I feel pretty confident that if I needed to, I could find a date. Actually, I was on a self-esteem high all that week, but that's another experiment ...
From the stats alone, stating that I have children didn't stop people from contacting me. In fact, in some ways I felt like it made me more "marketable" to potential partners. The fact that my profile headline included my children appears to not have affected my results. Instead, from the messages I received, I think it helped. Admitting to having children made me more "real." Online dating is a crap shoot. In the day and age of Catfish, fraud scams, and other methods of deceiving people through the internet, people, especially those vulnerable enough to put themselves out there to find love, want assurances that the person they are falling for is really the person that they think he or she is. By being honest about my children, it shows potential matches that I have nothing to hide, and that I am indeed presenting to them person I claim to be.
No question, there was quantity. But was there quality?
The people who contacted me on POF —mostly men although there were some women — were generally not my type. However, I did receive the most genuine-sounding messages from this online profile. My responses included lines like: "Twin boys! That's a blessing," and "I'm a father too." Another man wrote me an entire page discussing his views on family values, where he has traveled, where he grew up, and what his life goals are. He even started his letter off with "Bonjour Mademoiselle."
To my surprise, after wading through the many "wassup" and "hey sexy" messages, I thought that many were trying to make a real connection with me. I did not expect potential matches, especially those in the age range I specified in my profile, to be so willing to get to know a single mom of 3-year-old twins.
But, this is consistent with much of what I learned from talking to real single mothers who use dating websites and apps. Many said that they found more meaningful connections when they were upfront about having children than when they were not. One woman said that the men she found online would often ask about her kids. Another mom even breastfed her infant while on a date with a guy she met online.
In contrast, I found myself more attracted to the guys who responded to my OkCupid profile, although it was clear that many of them didn't actually read my profile. I specifically stated:
Out of 35 messages, 22 either used the word "gorgeous" or referenced my appearance in some way when trying to connect with me. Only three actually asked me a question about something I mentioned in my profile. There was only one guy out of all the men who clicked on my OkCupid profile that I'd actually consider meeting if I were single.
So, I talked to him. I asked him whether or not it mattered if a woman states in her profile that she has kids. His response was, "yes," but not for the reasons I thought. He explained that the last woman he dated had children. He cared for her, but didn't want to get too attached to her children in case the relationship didn't work out, which it didn't. He would rather date a woman without kids than date one with children, get attached to those kids, and then have to leave them, especially if their father wasn't in their lives and the kids had started to look to him as that figure. It's not that having kids is a deal-breaker for him, but it is something that would make him think twice.
Honestly, I was surprised that this was the reason why he did not want to date a woman with children. I assume that people who do not have kids are typically more selfish than those who do have children and that, especially men, would find dating a woman with a child stressful and more work. I thought childless people assume that all women with children are looking for someone to play the role of secondary parent and that he or she would be resentful about being placed inside a ready-made family.
Instead, my match explained that his concern was more for the children than for himself or the woman that he dated, and ending his relationship with his last girlfriend changed him. I respect that.
Here's What I Think:
I think that if I were to hit the dating scene today, kids in tow, I'd be alright. Putting your real self forward makes finding that potential connection much easier. It's hard to find the time to date when you have a child, let alone hide that kid from someone you do.
It would be a shame to lose that connection because you failed to disclose the fact that you have a 5 year old. After all, any person worthy of dating would not base their decisions regarding you on whether or not you have kids, as long as you are honest about it.
Images Courtesy of Tyrese Coleman (4)