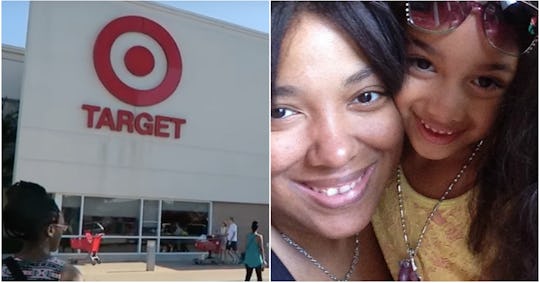 YouTube/Angie Grace
I Lived In Target With My Kids For A Day, & It Really Is The Best Place On Earth
We have all dreamed about being alone in a department store overnight, tell me I'm wrong. It was the plot of The Greatest Store On Earth, A Mom For Christmas (sort of), Mannequin (more loosely), and at least one teen novel. The possibilities for jumping on mattresses, riding sleds down the escalator and helping yourself to fancy gift boxes of chocolate-covered nuts for dinner are still ~tantalizing~. If I had the chance to get locked in a department store overnight, my choice today would be the place we all think of as our second home, Target. As a mom of four kids aged almost-one-year-old to 10, it is impossible to get a night off momming to live out my dream, so instead, I decided to spend a day living at Target with my kids. Your happy place? I put our collective love of Target to the test.
At any given time, I could take a 'mommy time out' and go chill on the patio furniture, with or without the kids.
Living in Los Angeles, I have three Targets very close to my house: the big three-story mall one at the Galleria, the slightly smaller two-story one at the other mall, and the very small almost un-Target one that's super close to my house. The Galleria Target is way too crowded all of the time. I tend to go to the other-mall Target, the two-story one. It's the chill Target. It has a Starbucks on the first floor, I never have trouble finding parking, and I pretty much know where everything is. That would be our new home for the day. I couldn't wait for the department-store magic to begin.
I know what you're thinking. Six hours shopping with four kids? Well that's where my husband comes in. I knew at some point I'd get tired or annoyed. At any given time, I could take a "mommy time out" and go chill on the patio furniture, with or without the kids. And the patio section of my Target is never inhabited by other people. I could sit back, relax, and pretend like I'm actually checking out pieces for my non-existent patio.
When getting ready to go, I made sure of several things. I had a diaper bag full of snacks, diapers and wipes. I didn't want to have to buy anything unnecessarily. I also had three bottles pre-made, just with nursery water, and formula in a formula dispenser for quick bottle-making. The older kids, my 10-year-old daughter Anneka and 8-year-old twins, had the responsibility of packing their own snacks in their own bags. My husband said "I'll be fine," and only packed water. I mean at Target, a venti Frappuccino is only ever a quick stroll away.
Here's how it went down.
Hour One: Kids, Welcome To Your New Home
I made the huge mistake in doing this on a Sunday. Sundays are prime everybody-is-out-of-the-house time in Los Angeles, I guess. The moment we got into the store, the kids smelled popcorn and started asking for some. I told them we would buy microwave popcorn and take it home later to pop and eat while watching a movie of their choice. They all agreed on The BFG.
The nice thing about living at Target is you don't have to rush from section to section — you can treat each like an Epcot world, really spend some time there and tour the sights. The first section we hit was men's clothes, a vast labyrinth of navy shirts and boring pants. I sometimes like buying the men's t-shirts because they're more comfortable, and tend to wear the sillier ones in the section. I found a Cookie Monster tee that was totally made for me. It's like Target really knows me. Things were off to a great start.
Hour Two: The Coffee Wears Off
I was already tired. I mean, I'm always tired. I have four kids and my husband works full time. I rarely go to bed when I should. I was starting to feel my coffee wearing off and was already getting antsy from pushing the stroller around and trying to keep the baby entertained. I excused myself to go have my coffee.
I went downstairs to Starbucks and of course there was a long line. By the time I got to the counter, I'd been peering over at the cosmetic section. So instead of sitting down with my cappuccino, I succumbed to the siren song of the makeup.
If I had to live in a single section of Target, it would be the cosmetic section. Endless glitter and new mascara technology, blingy fake diamond earrings that only look good under the Target lights: it's a magic spot.
I gave it a good combing through, keeping note of my biggest wants. Call it in-person Christmas research. It's a little mom holiday, and I feel great.
Hour 3: Don't Mind Us, My Baby Is Hungry
It was time to feed the baby. We made ourselves at home in the baby section, and my hubby did up the bottle, propping all the bits on a shelf as if we were home in our kitchen. He shook it up and handed it to Kai, who is 10 months old, and happily chugged it down.
My twins, Mia and Laila, started to whine. They wanted to go look in the toy section. My husband was having none of that and said if they whined one more time, we wouldn't go look at the toys at all. They quieted down. By that point, Kai had finished his bottle and the twins were playing peek-a-boo with him. An older lady was walking by and stopped to look, drawn by Kai's loud giggles. We gave her a look like, "Hi, we're the Graces, we live here," and she smiled politely and moved on.
Hour Four: The Natural Devolution Of Human Society
I wanted to throw in the towel. Our existence felt like endless laps past the same electric crockpot display. I kept telling myself that I needed the exercise and walking around Target was better than any treadmill in a gym. In fairness, when you live at Target, you have about 20 more miles of walking space than you do in the typical family apartment. It really was nice to stretch my legs.
As with all good survival tales, we had by now separated into "teams." Anneka and I had gone hunting in the housewares section. We were horsing about, jostling each other and pretending to be hurt. It kind of felt like seeing as we were in Target's house, I didn't need to be the grownup. We got more rowdy, and Anneka squealed, "We're gonna get kicked out of this place!"
It was exciting to imagine our common enemy, the Target security guards, coming for us, a family on the lam.
As I say, we had been here a long time at this point.
We were finally hitting our stride as a family who live in a glorified supermarket.
Hour Five: The Wheels Come Off
Although our shopping cart was still wheeling along smoothly like a dream, my hubby and I started arguing as we entered the fifth hour. It felt like there was a third person in our marriage, and that person was Target. I couldn't help but be annoyed at how long it was taking him to choose paper towels and toilet tissue. He was comparing prices and checking the cartwheel app to find a discount. I made a joke about how cheap he was, calling him "Cheapy Cheaperton." He was not amused.
I told him bye and took all four kids with me back to the second floor to go kill time in the toy section. I figured I could have them all recreate their Christmas lists with live "I WANT THIS" commentary as they came across their biggest wants. As they hopped and skipped from toy to toy, I realized how much I loved my husband, and how much I missed him.
I met back up with my husband a short while later in the patio section. "I miss us," I said, as we reconciled by a pair of Adirondack chairs and giant sun umbrella. We were finally hitting our stride as a family who live in a glorified supermarket.
Hour 6: And The Moon Must Come
Mia was begging for a nap. Laila and Anneka still had too much energy. Kai was asleep in his stroller under his shade roof. By now, we had reached the twilight of the book section.
Anneka kept finding books she wanted and would bring them up to me and tell me to note down the titles in my phone. Mia and Laila wanted more of the adult coloring books, the ones that are supposed to be stress-relievers for grown-ups — you know, the level 100 of coloring. They'll never go back to their immature My Little Pony books.
Standing by a table of bottomless James Patterson paperbacks I looked over my family and felt at peace.
My husband went to wait in line with the various things we were buying and I took the kids to the van. Once I got everyone in the car, situated and used hand sanitizer, we were ready to say goodbye.
As we pulled out of the parking lot, the kids watched their home-for-a-day recede into the distance. "Goodbye," I thought. "I will always remember you."
The Target That Stays With You
There are several things I learned from this experiment. One, yes, you could totally live in Target, or at least spend a whole day there. As a teen and young adult, I used to spend entire days at the mall near me in Chicago. I would hang out with my friends, do very little shopping, and just have fun. Target is basically a mall within itself. There was even a food hall in our Target, but as the girls are vegetarians and I'm a vegan, there weren't many choices for us. I guess they could've had the Pizza Hut cheese pizza? But no one asked for it.
Also, going that long on just snacks probably wasn't good. The moment we got in the car, everyone claimed they were starving, so hubby and I cooked dinner the moment we got home.
I also couldn't stop thinking about germs. I wouldn't say that I am a germaphobe, but little kids touch everything. After a time, all I could see were little hands touching shelves, little hands in mouths, little hands stamping themselves on their siblings. Thank goodness, Purell is always just a couple aisles over.
All in all, it was fun goofing around with my kids in a store. And no, thank goodness, we didn't get kicked out.
Check out Romper's new video series, Romper's Doula Diaries:
Watch full episodes of Romper's Doula Diaries on Facebook Watch.