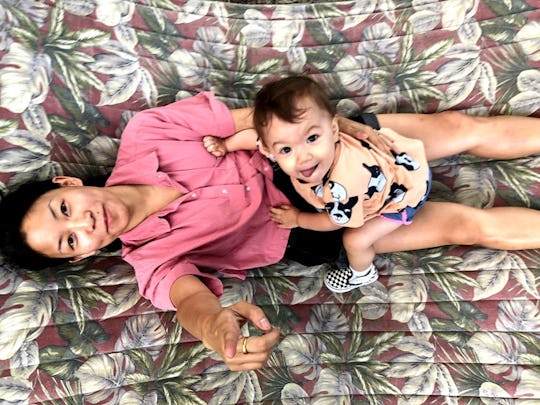 Courtesy of Anne Vorrasi
I Tried Go-To's Skin Care Line For 2 Months, & The Results Were Pretty Damn Good
I've always been a bit of a purist when it comes to makeup and skincare. I've essentially used the same five or so products for the past decade because I know what I like, and more importantly, what my skin likes. That being said, I'm also more than willing to try new brands and products that an actual person recommends (every product description sounds good on Sephora's site). Enter Go-To, a natural, cruelty-free skin care line that my co-worker says is all the rage in her native land of Australia.
Here's a little backstory on Go-To. It was started by Zoë Foster Blake who wanted to create a natural, effective, and simplified skincare line to use on herself and eventually sell to the masses. When I say simplified, I mean both the formulation of the ingredients and it's packaging are minimal, straightforward, and in essence, meant to streamline your skin care routine, thus simplifying life.
You've probably heard of brands like this before — I know I have. The thing that makes this brand stand out, at least for me, is that pre-Go-To, Foster Blake served as the beauty director at Cosmopolitan and Harper's Bazaar. I've been around my fair share of beauty editors (my first 8 years in publishing were with InStyle, where the beauty editor was my "work wife"). What many people don't realize about beauty editors is that they are informed. They have to be considering how many products they are sent to try and how many dermatologists they're constantly interviewing. I'd try anything a beauty editor recommended to me because they think like a derm but can break a product down for me in layman's terms: "This bottle is pretty, but the product is meh" or "you're going to love the way this smells, but don't use it if you have eczema" and "the jar looks like it came out of someone's basement (not in a good way), but it's amazing." *Add to cart*
Speaking of appearance, the line looks nice and will look adorable on your bathroom counter. See?
All the bottles, tubes, etc are peach with white caps and lettering — cute! — and the brand is not afraid to be funny and honest. Case in point: "This mask will make me look even amazinger" is emblazoned across a sheet mask packet, and you know what? It kind of did. And their Lips! lip treatment, which I used diligently for all of three weeks until I lost it (because I'm a normal human being) doesn't promise to be a quick fix for destroyed lips but gives you the heads up that it's going to need a little time to work its magic — confirmed.
It's worth noting that everything smells nice. The scents are not overwhelming and the first words that come to mind are: citrusy, fresh, bright, and expensive even though everything is reasonably priced ($7 - $39).
The brand also gets a couple extra brownie points because the founder is a mom. I'm a tired mom, so I feel like you should just let me have this one.
Anyway, I tried pretty much the whole range of Go-To for two months, and really enjoyed using everything. That doesn't mean I'm going to restock every single item though, because as I mentioned before, I'm a purist and it's hard to let my tried-and-true's go, but here are the standouts IMO.
My favorite has to be their Exfoliating Swipeys, which are exactly that. I was skeptical of the pads at first because i'm used to using good old-fashioned face exfoliator that you squeeze from a tube. But once I saw the grime the pads were picking up from my face and neck… forever hooked. For me, the 'grit' in my exfoliator is also key. They don't start rough — they are rather soft, actually — but the more you swipe and the harder you push, the more textured they become. Basically, you can choose your own adventure when it comes to scrubbing the dead skin off your face.
What else am I likely to reorder? The Super Handy hand cream. It's cold and dry in New York City, and my California-born skin hates the east coast climate. Regular lotion just won't cut it, especially on my hands. The formula is neither too thick or greasy (a surprisingly hard find in the hand cream market) and the tube is kind of the perfect size... not too long, not too wide (kind of like me, but I digress…
Then there is the Face Hero face oil, one of the brand's bestsellers. The thing is, my experience with face oils is… limited. This is literally the first one I've tried and used on a regular basis. After two months of continual use, I will say that my skin was feeling great up until it the last week or so when the heat kicked on in my building, turning my apt in to a literal desert. No humidifier stands a chance against the moisture-depleting strength of an old NYC radiator. Since then I've been dabbling a bit of my toddler's eczema cream on my cheeks for a little extra boost. During the humid summer though, when I was most nervous about using it (oily skin + oil sounds like a bad combination), it actually made me feel like my skin was happier (possibly even less oily overall) and dare I say it? Glowing.
What am I passing on? Their Properly Clean foaming face wash ($24, Sephora). Don't get me wrong, it's light, easy to pump, and makes my face feel clean, but the one thing it won't do is get my mascara off (I am not talking waterproof). I just don't have the interest in getting another product for that one purpose, when I already have a favorite face wash that will.
I've also got a love-hate relationship with the Exceptionoil body oil ($39, Sephora). Love slathering it all over post-hot shower, but tube is too tall and skinny and keeps getting knocked off my shelf. The formula is also temperature sensitive (runny when warm, a bit waxy when cold). This is probably a testament to the fact that it's not using unnecessary chemical-based stabilizers, but I've resorted to keeping the open tube propped upside down in a cup while applying the product on my body and hair. I make it work, but wish I didn't have to. Other bonus? You can use it in your hair.
The sheet mask, on the other hand, checks all the right boxes. The packaging is cute, it smells nice, it's super serum-y (I realize that sounds a bit gross, but it's so disappointing when you open up a sheet mask and it basically feels like a damp paper towel. It should be dripping with all the things that will make my skin look better than it has all week post-15-minute soak.)
All in all, I liked the experience of using a collective set of skincare products — the last time I did that and had as much fun was when I was 13ish and hopping onto the Clinique bandwagon.
Oh, and Go-To if you're reading, an eye cream and mud mask are on my wishlist.