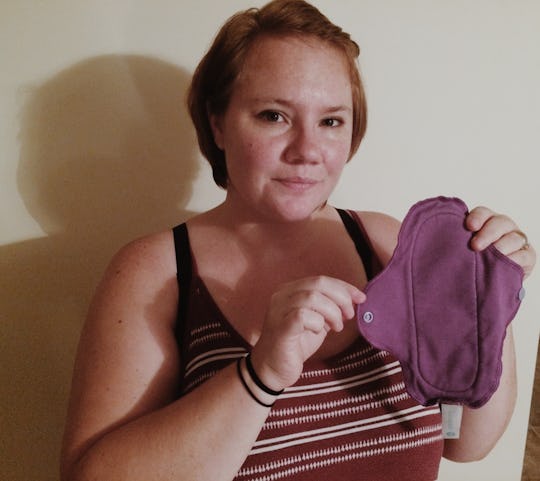 Courtesy of Christie Drozdowski
I Used Reusable Pads On My Period & Here's What Happened
Wearing menstrual pads was never my thing pre-baby, so I never would have thought trying reusable pads after having a baby would be on my radar. I'm the girl who, at 13, insisted on learning how to use a tampon the very morning I woke up and discovered I'd started my period. After I gave birth to my daughter, I wasn't at all thrilled about the postpartum bleeding, especially considering I had no choice but to wear pads — who else hated those big ones they gave you at the hospital? But as the weeks went by, I got used to using pads out of necessity, and once my regular period came back, I actually found myself using a mixture of both pads and a few tampons.
It wasn't easy mentally and physically to allow something up my vagina after the experience of having a baby. And in my case, that was even after ending up with a c-section. So, I shied away from my previously trusty tampons in favor of pads after all.
The Experiment
I'd heard about reusable pads in reading about trying free bleeding. If I was going to be using pads more, I thought getting some reusable ones would be economical. I reached out to the Lunapads brand, and they sent me their Performa Mini, Maxi, and Super for normal periods to try. According to Lunapads, the Performa style pad is a "high performance washable pad that feels just like your most comfortable pair of cotton underwear. Using 2 layers of super-absorbent microfiber, hidden between 2 layers of soft cotton jersey, Performa Lunapads were made to hold your heaviest menstrual flow and stop light bladder leaks in their tracks. The leakproof backing keeps everything off your clothes, while the wicking cotton top layer keeps you comfortable and dry."
The experiment would simply be to wear these pads exclusively throughout the duration of my period (including nights) to see how to worked and if I liked it.
Armed with the tools, here's how it went.
Day 1
I started my period in the afternoon, because in my experience, Aunt Flo loves to come when you're right in the middle of something, and I was preparing for a dinner party I was hosting at my house later that night. I chose the middle-sized pad because I'm usually never sure how heavy my flow is going to be in the beginning of my period. It was a snap to secure the pad to my underwear — literally, the wings fasten around your panty with one snap button. Throughout my party and evening, it stayed in place, and I barely noticed the pad as it was comfortable and absorbed the moisture well. I didn't fill up the pad fully by the time I was ready to switch for the night as it was about six hours since I had started, but I wanted a fresh one for overnight.
I changed to the smallest pad for the first night, but that turned out to be big mistake on my end for misjudging my flow. I ended up bleeding on the part of my panties not covered by the pad, unfortunately.
Day 2
The next morning, I had a full day ahead of me, but I only had one more pad left to use. Thankfully, despite the mishap the night before, it was the super-sized Performa. It held my flow very well, but I was definitely ready to change it out once I got home. I would definitely suggest getting one (or more) packs of five, because I only had three pads, so it was a little annoying having to wait as I had to wash the other two.
I wasn't "throwing away" something gross like I have when using disposable pads, but rather, I was allowing my cycle to just be apart of my life without shame.
Even though you can put the Lunapads in a washing machine in a normal washing cycle, for the sake of getting them washed quickly, I decided to hand wash them and throw them in the dryer. Normally, caring for them is as simple as doing laundry in general. And according to Lunapads, "Lunapads can be washed by hand or machine in any temperature with your regular detergent. Pre-soaking or rinsing in cold water prior to washing is recommended (but not always necessary), particularly if the pads are heavily saturated."
Although it's not the most appealing thing to wash them by hand as I'd chosen, I was amazed by seeing just how much blood was able to be absorbed.
Day 3
My flow wasn't as heavy on the third day of my experiment, and because I was home all day it was much easier to transfer back and forth between the pads as needed. Although washing them was time consuming with only three pads, I was happy with how well everything else went while wearing them. They felt comfortable in general. Only the Super pad had a tendency to crawl further back in my underwear, and as each of the pads have Lunapads tags on the bottom back, sometimes I'd feel it tickle my butt.
Otherwise, the pads were doing their intended purpose. I felt the cloth pads were much softer than disposable pads. Often times while wearing disposable pads, I feel like I'm wearing a diaper, but the Lunapads honestly feel so much more natural, which makes sense since it's a similar material to cotton underwear. Another contrast to wearing disposable pads is that I feel like I didn't smell my period blood as much as I do when wearing disposables. I feel like the cloth absorbs the moisture in a way that helps eliminate odor.
The process of wearing cloth pads also made me feel more accepting of this particular function of my body — my menstrual cycle — as a woman. I wasn't "throwing away" something gross like I have when using disposable pads, but rather, I was allowing my cycle to just be apart of my life without shame.
Day 4 And Day 5
My flow merely trickled on these days, which I was grateful for, because even though I didn't mind the pad-wearing, I was ready to not have to worry about rinsing out, washing, and drying them — even though it did give me a clear incentive to get my laundry done. I'd read about how using the organic cloth with a reusable pad and/or free bleeding can be healthier and actually decrease duration of bleeding, but I can't be sure if using the cloth pads helped my period to end quicker than usual or not, because I've often had very slow days at the end of my cycle even while using disposable pads and tampons.
My flow is always the absolute worst on the first full day of my period (which ended up being day two in this experiment), so to know that just one of the Performa pads held it for the majority of the day was pretty remarkable.
Did This Experiment Change Anything?
Since the Lunapads package says they last for five years, I'm definitely considering buying a few more to make my supply more complete. Even though washing them may not seem like a nice idea, I still found it so much better than having dirty pads in my bathroom trash can. They are far softer and more comfortable than disposable pads, and I love the idea of saving money. Because however little it seems in one instance, the cost month after month totally racks up.
Beyond the logistics, the feeling of not seeing pads — or my period in general — as "gross" felt good. There's no point in feeling shame or disgust about a bodily function that literally enables me to create, carry, and birth a new life. Wearing reusable pads reminded me of yet another reason why my body is truly amazing.