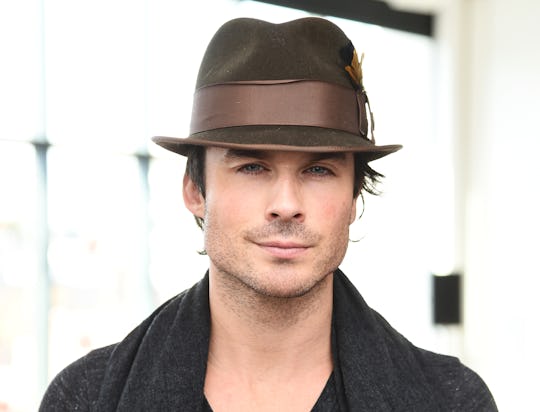 Ilya S. Savenok/Getty Images Entertainment/Getty Images
Ian Somerhalder's Feminist Quotes Are An Example Of What It Means To Be An Ally
If you've been a longtime fan of Ian Somerhalder, then you know he is an activist first and foremost. At least once a week, Somerhalder takes to social media to bring awareness to a bunch of important causes, including women's rights. Although there has been a lot of controversy surrounding male feminists in Hollywood these days (CC: Joss Whedon), Somerhalder's commitment to women's rights has never been questioned, mostly because he has consistently demonstrated a deep understanding of women's issues. Not only do Ian Somerhalder's feminist quotes prove he values women on a meaningful level, but they also demonstrate his genuine understanding of women's rights.
In 2015, Somerhalder partnered with the Girls Impact the World Film Festival, an annual event dedicated to bringing awareness to global women's issues, according to Connect Her. Each year, female high school and undergraduate students are invited to submit 3- to 6-minute films on a variety of topics, including maternal health and education, to name a few. Somerhalder explained why this foundation, the Ian Somerhalder Foundation, decided to support the festival in a 2015 interview, according to She Knows:
While I have the utmost hope for women in Hollywood this year, my real desire would be to see a louder, more public, more invested recognition of women outside of Hollywood. We need to celebrate the women in technology, science, education and our local communities, the women who are breaking gender barriers and [exceeding] all typical expectation. When I'm out running errands, I always see a multitasking mother who truly blows my mind. This woman is nothing short of a comic book superhero. Strapped to her back she has a wailing new life, holding her hand is her intensely curious and super-fueled toddler, yet she maintains patience, creatively and constantly finds solutions and manages to execute 100 things simultaneously without losing any part of who she is. She is an absolute artist. There are incredible women like her all around us. Hollywood has enough attention. Let's celebrate the women achieving the unthinkable in our local communities every day.
New post-election relaxation technique: reading Somerhalder's quotes on feminism while listening to Dido's No Angel album.
Somerhalder also took a moment to address the importance of combating stereotypes, including the outdated idea that all women should get married. Note: Somerhalder is not knocking women who want to get married or who are married — he's simply acknowledging that women have the right to do what they want and break the traditional mold.
Somerhalder explained, according to Global Citizen:
Women can be wives, mothers, comedians, bioengineers, hackers, auto mechanics… the pressure should not be on fitting stereotypes and norms, but instead the pressure should be on launching yourself toward your true passions during the short time we have on this planet. While it seems pretty meta and grand in thinking, once we step back and really acknowledge the pointlessness of role stereotypes and the necessity of true passion, the world around [us] is liberated in every direction.
To top all off of that amazingness, Somerhalder had a message for men that personally feel slighted by gender equality (MRAs, this one if for you). Somerhalder said, according to Movie Pilot:
When we men learn to celebrate the true and irrefutable power of women, we can then truly celebrate the progress of men.
Hmm, maybe the adult men who felt victimized by the women-only screening of Wonder Woman should familiarize themselves with this quote...
As for Somerhalder's more serious work with women's rights, he has also touched on why it's important for men to speak out against domestic abuse. Considering close to three women are killed by their partners each day, according to NBC News, it's incredibly meaningful that Somerhalder decided to address this pressing issue. Somerhalder said, according to HuffPost:
[I]t's so easy to forget the many women who live their lives in fear because of domestic violence. Men have an important role to play in sending out the message that real men do not hurt or abuse their partners.
Hollywood desperately needs more activists like Somerhalder — too many celebrities don't utilize their platforms to champion important causes like women's rights. Somerhalder is proof that so much good can be done by simply speaking up, and it will be exciting to see how he'll expand on his feminism as a new father.