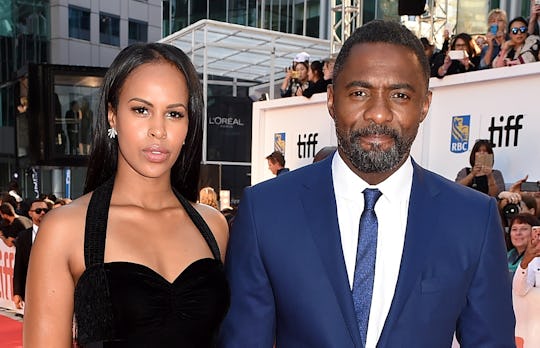 Kevin Winter/Getty Images Entertainment/Getty Images
Idris Elba Is Engaged, & The Internet Is Heartbroken
Sometimes life just isn't fair, kids. Whether it's waking up in the morning and discovering there isn't any cream for your coffee, or having your favorite show taken off Netflix, or your favorite fantasy celebrity taken off the market; it's all rough. I mean sure, you'll get over these little hiccups along the way, but in the moment you just need to give yourself time to mourn, you know? Get ready to bawl your eyes, because Idris Elba is engaged, and the internet is wearing the dark shroud of mourning.
It seems The Mountain Between Us actor decided to get a little head start on all of the Valentine's Day action. He and his girlfriend, beauty queen Sabrina Dhowre, were at the Rio Cinema in London in the early hours of Saturday morning for a screening of his new film Yardie when Elba decided to create a little movie magic of his own. In front of a theater full of people, the 45-year-old actor got down on one knee and proposed to Dhowre, and she said yes. This will be Elba's third marriage; he was previously married to makeup artist Hanne Norgaard, with whom he has a teenage daughter, Isan, but they separated in 2003. He went on to elope with American lawyer Sonya Hamlin in 2006, but the marriage was dissolved after just six months. The Wire actor was also in a relationship with another makeup artist Naiyana Garth, and the two share a 3-year-old son named Winston.
Elba has said previously that he didn't really think he would ever get married again. In a July interview with the magazine Essence, Elba said:
Am I ever gonna get remarried? I don't think so. Yeah, I don't think so. Marriage is an institution of sorts. And I've done it. It's not for everybody. It's not my life's calling.
Apparently all it took was meeting the Somali-born Dhowre, a former Miss Vancouver. He met his new fiancee while shooting the film The Mountain Between Us with Kate Winslet in Canada, and their first outing as a couple was at the Toronto International Film Festival in September. While Elba tends to be rather famously private about his love life, he had this to say about meeting his new love:
Falling in love while making a movie about falling in love is pretty special.
And it's not like the internet isn't probably happy for him, deep, deep down somewhere. It's just that, as these social media mourners noted, it would have been nicer if he was engaged to someone else. Namely them.
Then there were the women who were simply heartbroken to lose their fantasy dream man, the seriously delicious Idris Elba. So suave, so handsome, so cultured yet sort of tough. And now... so off the market.
Not everyone on the internet was mourning, however. There were more than a few cunning gentlemen who figured Elba's recent engagement might have helped them climb a notch or two higher in the eligible bachelor game.
OK, so Idris Elba is engaged, and life will go on. Sure, now he's going to be the husband of someone and that might make some people feel a bit icky about having *those* kind of thoughts about him, but life will go on. The sun will continue to shine sometimes, children will still play in parks, delicious food will still be cooked in homes all over the world. Good things will happen.
And as fellow females, we need to be supportive of another woman's presumed happiness, right? I'm sure Elba's lovely fiancee is probably a great person. And I wish them all the happiness in the world.
I'm just not sure what to do with my life-size posters of him hanging on my bedroom walls, that's all.