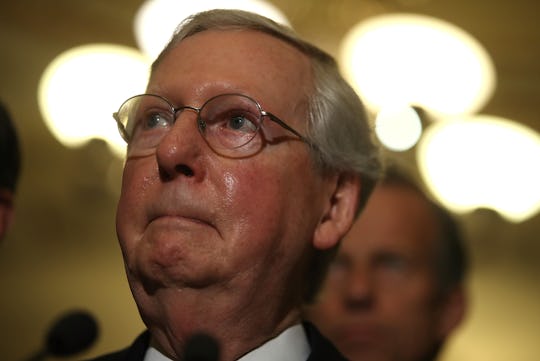 Justin Sullivan/Getty Images News/Getty Images
Here's What Would Happen If Every Republican Congressman & Senator Got Pregnant Tomorrow
Tuesday, the Senate voted to move forward with the debate on repealing the Affordable Care Act. The motion to proceed was narrowly passed when Vice President Mike Pence cast the tie-breaking ballot in favor of the move. And while the actual bill to replace and repeal Obamacare has yet to be fully revealed, all of its predecessors have been dangerous and impractical, to say the least. Nevertheless, the members of Congress — which is predominantly male and white — have made it their priority to strip healthcare away from millions anyway, including important protections for women and mothers. But let's just pretend what it would be like it every congressman and senator got pregnant tomorrow; What might happen then?
Here's what would happen: the bill would be dead on arrival.
The now-infamous MacArthur Amendment practically made being a woman a pre-existing condition (OK, not technically, but whatever, you get it), and much of the recent health care debate has been predominantly focused on the dollar signs and costs, rather than the people themselves. But, the fact of the matter is, that if every single man in Congress understood what it was like to be a woman, then practical care, such as NICU costs and C-section procedures, likely wouldn't be such an issue.
Of course, one of the most hypocritical details about all the Republican attempts to repeal the ACA is that drafts of those bills all still made sure that the legislators' coverage remained intact. So hypothetically, if all the men in Congress were to suddenly find themselves pregnant tomorrow, they could arguably just opt themselves out of all the changes and be totally covered, but one can still dream.
Without further ado, and barring any hypothetical opt-out scenarios, here's what it might look like if everyone on the Hill got pregnant tomorrow, and not just the women.