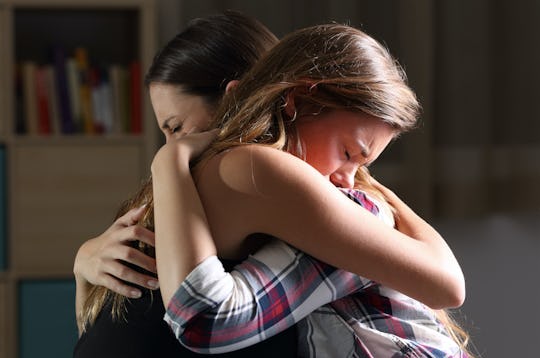 Antonioguillem/Fotolia
If Only I Had Said These 7 Things After My Friend Had A Miscarriage
Eight years ago I miscarried what would've been my second child. It's a day I can't forget, even if I wanted to, and truthfully I don't want to. For me, pretending I didn't lose that pregnancy means pretending that pregnancy didn't happen. But I did, and that loss is part of my story as a mother. Recently, I discovered a friend had quietly experienced something similar, I just didn't know until it was too late. If only I had said the following things after my friend had a miscarriage; things I know I needed to hear when I was enduring my own loss. Then maybe she'd have felt less alone. And while every person handles pregnancy loss differently, for me I know support from friends would have helped me focus on the future. I try to remind myself of the things I needed when I was seemingly drowning in my sorrow, and give my friends or loved ones going through similar pains what I know they need.
I can't speak for every woman who's lost a child, because grief isn't a one size fits all experience. But my first pregnancy loss played a pivotal part in the kind of woman, and mother, I am today. I had a daughter nearing her third birthday, I'd endured and overcome postpartum depression (PPD) that almost ended in suicide, and I was just starting to see the light at the end of what was a difficult new-parent tunnel. So the moment that pregnancy test confirmed I was pregnant, I was hopeful. I didn't know I could fee that way again, but there I was: holding a positive pregnancy test, looking at the glass half full for the first time in over three years, only to have the glass break in my hands when the doctor said there wasn't a heartbeat.
My partner and I tried to get pregnant for another two years before I found out I was pregnant with our son. During those two years I cried. A lot. I thought I'd never hold another baby of ours again. And while I loved our daughter the the sky loves the sun, I felt like a failure. I couldn't will a baby to life no matter how hard I sobbed, or prayed, or hoped. When I think of a friend going through a similar experience, I can't help but be disappointed that I didn't say or do enough. I just wish I had done more. Said more. I guess, in the end, I wish a lot of things.
This yearly reminder of my miscarriage, a reminder that will undoubtably be part of my being from now until forever, is a reminder that loss doesn't ever really go away. If anything, it tattoos itself on your heart, possibly changing your choices, and journey, along the way. When a friend goes through something like this, there are things you should say — things I wish I'd said — that might help take some of the weight of her pain and sadness off her shoulders, such as: