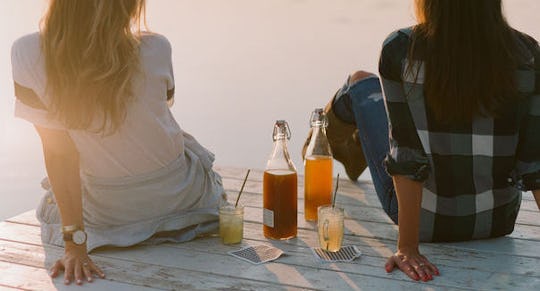 Lexia Frank/Stocksy
If You Tell Yourself These 10 Things When You're Drinking, It Could Be A Red Flag
For many people, alcohol is an integral part of their social and recreational life. Drinking in the evenings or on the weekend is just the thing to do. So how are you supposed to tell the difference between having a good time and having a potential problem? Well, if you tell yourself certain things when you're drinking, it could be a red flag.
Although substance abuse is a rough topic to examine, it's far from unusual. In the United States, almost 27 percent of people over the age of 18 admitted to binge drinking within the past month, according to the National Institute on Alcohol Abuse and Alcoholism (NIAAA). Binge drinking is defined as behavior that brings the blood alcohol concentration to 0.08 g/dL. In general, this works out females consuming four drinks, or males consuming five drinks, in a two-hour span, as further noted by the NIAAA. But you don't have to binge drink in order to have a problematic relationship with alcohol. Sometimes the problems become more apparent when you start making excuses or rationalizations for drinking.
There's even a specific term for these things you tell yourself when you're drinking to possible excess. "What you are referring to is called 'addictive thinking'. Those are the thoughts that the brain promotes to justify, minimize and rationalize excessive drinking," says addiction counselor Mark Levine of Minds at Peace. "The more someone drinks, the more the brain wants alcohol, and the more creative the addictive thinking becomes." Read on for some examples of these potentially damaging rationalizations for alcohol abuse.