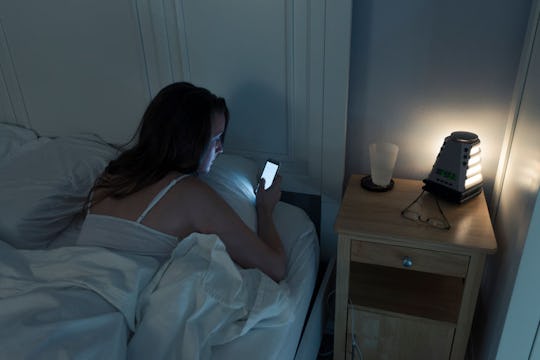 Suzanne Clements/Stocksy
If Your Body Does These 7 Things At Night, You Might Have A Hormonal Imbalance
Hormones are responsible for much of what makes our adult bodies function. For women, estrogen and progesterone regulate everything from your period to your body temperature, so an excess or lack of either hormone can wreak havoc. Some symptoms of a hormonal imbalance appear at night, so watching out for them in the sleeping hours can make it easier to know if something is out of whack in your system.
A hormonal imbalance can disrupt your sleep in a number of ways, which is unsurprising when you think about how common insomnia is among those going through menopause or pregnancy. But you might not immediately think it's your hormones causing your night time problems if you aren't in either of those situations, especially because the symptoms of hormonal imbalances are fairly innocuous on the whole: Common indicators of the condition like breast tenderness, indigestion, or weight gain can be caused by so many factors, according to Medical News Daily, from your period to eating something funny to stress.
Plus, hormonal changes are normal at different phases of a woman's life, such as during ovulation, menstruation, pregnancy, postpartum, and menopause. But if you notice a combination of new symptoms or a sudden onset of issues arising at night and you aren't going through one of those normal cyclical changes, you should contact a doctor to figure out what's going on, as a hormonal imbalance could very well be to blame. Read on to find out about seven ways a hormonal imbalance can impact you while you sleep.