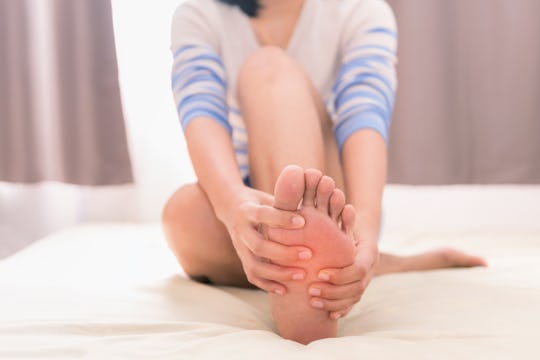 khwaneigq/Fotolia
If Your Hands & Feet Are Always Falling Asleep, You Might Have 1 Of These 6 Health Issues
There probably isn't a human being alive who isn't familiar with odd sensation of a hand or foot or limb falling asleep. That tingly, slightly numb feeling is annoying, to be sure, and can definitely derail you for a minute or two, but it's usually just the result of something completely innocent. In some cases, though, frequent pins and needles can be a sign of something more serious. In fact, if your hands and feet are always falling asleep, you might have one of several health issues.
"The most common reason for temporary numbness of the feet is postural habits that put pressure on the nerves and reduce blood flow to the lower extremities," Dr. Miguel Cunha, Founder of Gotham Footcare and a leading podiatrist in Manhattan, tells Romper.
"Certain habits can cause temporary sensation of pins and needles in the feet because of positions that may include crossing the legs for too long, or sitting or kneeling for long periods of time, such as sitting on the toilet for too long," Dr. Cunha continues, adding that wearing tight shoes or clothes can also cause temporary numbness. However, that uncomfortable sensation isn't always something you can shrug off.
"There also underlying diseases that can contribute to more long-term or more frequent episodes of numbness and tingling sensations," Dr. Cunha adds, "ranging from conditions such as sciatica pain from a herniated disc, Morton's neuroma, or diabetic peripheral neuropathy."
As WebMD explained, peripheral neuropathy has a wide range of causes, from traumatic or repetitive stress injuries to infections to systemic diseases and even exposure to toxins. That's why it's important to get yourself checked out by a doctor if you find your hands and feet falling asleep on a regular basis. As WebMD put it, "The earlier the underlying cause of your tingling is identified and brought under control, the less likely you are to suffer potentially lifelong consequences." Hopefully it's NBD, but if there is something troubling going on (like one of the conditions below), you'll want to start treating and managing it sooner rather than later.
This article was originally published on