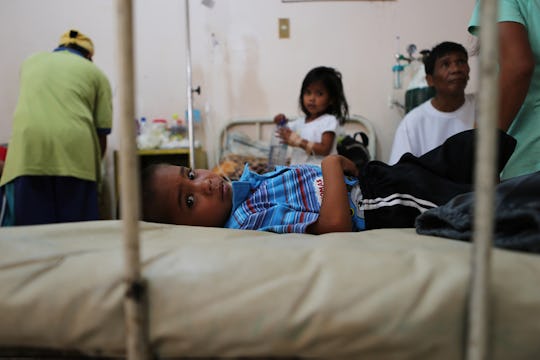 Jeoffrey Maitem/Getty Images News/Getty Images
Stats On Infectious Disease Now Vs. 20 Years Ago
Americans are getting sicker and scientists warn climate change is to blame. On Wednesday, the Medical Society Consortium on Climate & Health released a report detailing how extreme weather, rising temperatures, and air pollution, have exacerbated the spread of disease as well as threatened nutrition and mental health. A look at the stats on infectious disease rates now versus 20 years ago seem to support the alliance's findings, suggesting that Americans need to take a harder look at how climate change harms public health.
Cleveland.com reported that the Medical Society Consortium — an alliance of 11 national medical societies — found that climate change has caused an increase in infectious diseases as well as food-, water-, and air-borne illnesses. Much of that is due to contaminated food and water, as well as a boost in disease-carrying agents, resulting from extreme weather events, which NASA reported have occurred mostly in the past 35 years. Children, pregnant people, and elderly adults are particularly susceptible to the health impacts of climate change.
Research shows that global warming affects a wide-range of diseases and illnesses, including many that have vaccinations. The U.S. Centers for Disease Control and Prevention statistics show that incidences of whooping cough have more than doubled since the late 1990s, while measles cases have increased steadily since 2003. Rates of Hib disease, which is caused by the bacteria Haemophilus influenzae, have also more than doubled since 2000, according to the CDC.
The increase in rates of these diseases also correlate with the growing anti-vaccination movement. More and more parents are choosing not to vaccinate their children, which has led to a number of outbreaks across the country. Measles, mumps, whooping cough and chicken pox have all made a comeback, despite the medical science available to guard against the highly infectious — and potentially life-threatening — diseases. Anti-vaxxers continue to push scientifically disproven and discredited research as justification for why they opt out of vaccinating their children. But this aversion to immunization, coupled with worsening climate conditions, has a clear impact on public health.
Unfortunately, this harm that Medical Society Consortium warns against could only get worse from here. President Donald Trump has continually attacked environmental protections to benefit corporate interest. He and his administration vehemently deny climate change and have taken actions to undo policies that benefit the environment, and, ultimately, humanity. And Trump has also made troubling statements about vaccinations that back anti-vaxxers' claims. It's hard to believe that Americans will be able to get healthier and live longer without the support of the federal government.