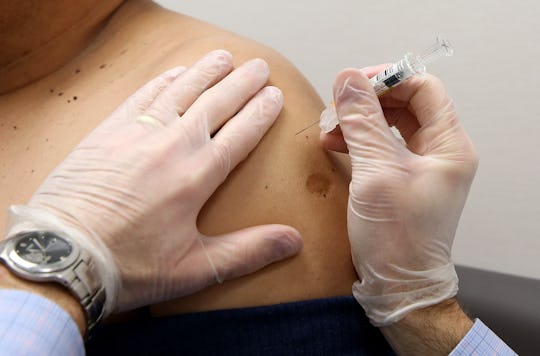 Justin Sullivan/Getty Images News/Getty Images
Why Your Partner Should Get Vaccinated
Let's be honest: Adults are notoriously terrible at keeping up with their vaccinations. Vaccines are treated as something just for kids, except for when influenza season comes around. And even then, so many adults forget to get the flu shot. Still, immunization is important at any age. Earlier this month, the U.S. Centers for Disease Control and Prevention made changes to its recommended vaccines schedules for adults. The updates have raised a lot of questions for parents, including whether your partner should get vaccinated when you have a baby. And the answer is: Absolutely.
When you or your partner get vaccinated, not only are you protecting yourself against the flu and diseases like Hepatitis B and whopping cough, you're also keeping your young little one safe. The CDC does recommend children receive immunizations from birth until 18 years, but they will not be vaccinated for every disease at one time. That's why it's important for you and your partner to do your due diligence; if you are caught up on your vaccinations, that means you protect yourself against serious illnesses your child may be susceptible to at the time. Newborns, for example, are particularly vulnerable to the flu and whopping cough before 6 months old. ‌
‌
The recent CDC changes only affect how often and when you should get vaccinated for the flu, Hepatitis B, the human papillomavirus (HPV), and meningococcal disease including meningitis, according to ABC News. But the federal health agency recommends that every adult stay up-to-date on their childhood vaccinations. Not all immunizations are lifelong, which is why the CDC advises adults to receive booster shots of Tdap, which safeguards against whopping cough and tetanus, every 10 years. Pregnant people should also receive a Tdap vaccine during the third trimester to protect infants from whopping cough after they're first born.
Not only is the CDC update a good reminder for adults to get vaccinated, it's also necessary information to combat the growing anti-vaccination culture in the country. People who are anti-vaccination base their information on scientifically unfounded and disproven studies. But that hasn't stopped anti-vaxxers from reaching the White House; according to Tonic, President Donald Trump has started the process of forming a vaccine safety panel, which would be guided by notorious anti-vaxxer Robert F. Kennedy Jr. A vaccine safety commission already exists, but this Kennedy-led panel would undermine decades of scientific research that has proven, without a doubt, that vaccines keep people from getting sick. When you have diseases like measles, mumps, and whopping cough making a comeback thanks to anti-vaxxers, it's vital to have the CDC remind us that we actually have the tools to prevent them.