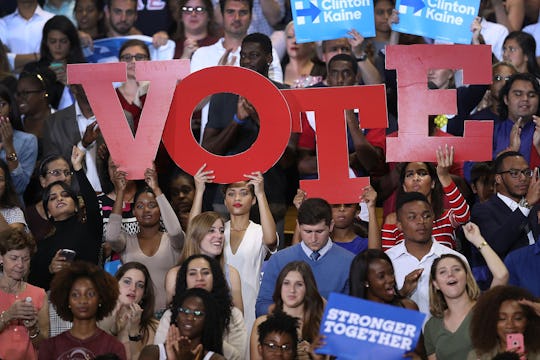 Joe Raedle/Getty Images News/Getty Images
Here's How To Find Your Polling Place For Tuesday's Midterm Elections
Remember after the 2016 presidential election how everyone talked about how important the 2018 midterms would be? Well, y'all, the 2018 midterms are here. On Tuesday, millions of American citizens will head to the polls and cast their votes — votes that have a very real potential to change the political landscape of the country. So if you're not sure where to vote on Tuesday, here's how to find out.
The deadline to register to vote for Tuesday's election has passed in most states already. Some states, like Illinois and California, allow you to register on Election Day. But, hopefully, if you are qualified to vote, you've already registered in your state. There are a few ways to check where your polling place is. One of the easiest ways is by visiting GetToThePolls.com.
On the website's homepage, you will be prompted to enter your address. Click "search," and the website will quickly provide your voting site's name, address, hours, and a map with both your home and your polling place highlighted. It even offers a "get directions" link, which will take you right to Google Maps, showing you directions on how to walk or drive to your voting site. The whole process took me literally 30 seconds (that's only six-and-a-half minutes less than it takes me to walk to my polling place!), so if you aren't sure where you're supposed to go to vote, I can't recommend GetToThePolls.com enough.
Not to mention, GetToThePolls.com also functions in a slew of other languages — you can change the language by clicking "English" on the top right" — making it more inclusive for voters who speak another language.
If you'd rather go old-school, you can also look up your polling place on your state's website. Simply google "voter registration search" plus your state's name, click on the government website, and input the information you're prompted to. On New York's website, that's your name, date of birth, address, and county.
Another website to look up your voting site — and this one is Michelle Obama-approved — is WhenWeAllVote.org. I'd recommend this website if you're also looking for a voting reminder and to get familiar with your ballot.
After entering your address, WhenWeAllVote.org informs you of your polling place, and then asks you what time you plan to vote. Then, it allows you to enter your phone number for a reminder text message about your voting plan when Tuesday rolls around. Pretty sweet! The website's homepage also allows you to look up your ballot, so that there are no surprises on Election Day. I'd recommend doing this (and subsequently researching candidates) before Tuesday, so that you are completely prepared when you walk into your polling place.
For even more information on your ballot, I'd recommend checking out theSkimm's "No Excuses" campaign. Even more important than showing up to the polls is voting for politicians you believe in — and there are so many amazing candidates this year. After entering your address, theSkimm's ballot cheat sheet will provide a description of each position, as well as a list of every candidate.
Lastly, might I recommend making a voting plan? On Monday, decide what time you're going to head to the polls Tuesday, and map out how you're planning to get there. In the wise words of President Barack Obama, "Don't boo — vote!"