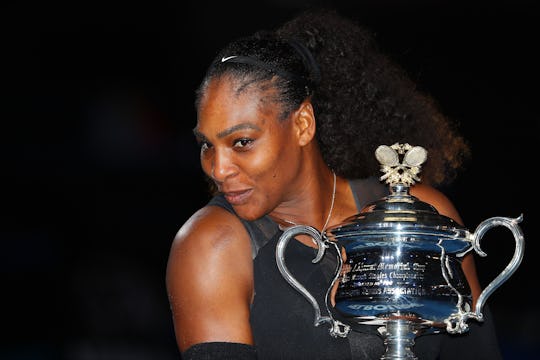 Scott Barbour/Getty Images Sport/Getty Images
Racial Slurs Against Serena Williams' Baby Are Beyond Ridiculous
Everyone on the internet and beyond are talking about the news that tennis great Serena Williams is expecting her first baby. The majority of the chatter has been supportive, of course. But Romanian Fed Cup's Illie Nastase's racist comment about Serena Williams' baby, which he claimed to have said in jest, sets a different tone. It was a throwback to the "good old days" when racial slurs were tolerated as long as they were said with a wink and a nudge.
It may be 2017, but racist comments and slurs are still prevalent and, apparently, many people assume there's nothing wrong with them. While attending the Fed Cup between Romania and Great Britain in Constanta on Friday, Nastase was reportedly overheard by several journalists from both countries talking to one of his team members about Williams' baby. The tennis star, who just won her 23rd Grand Slam while pregnant against sister Venus Williams in January, is expecting a baby with fiancé, Reddit co-founder Alexis Ohanian. According to a report by Reuters, he said:
Let's see what color it has. Chocolate with milk?
As you may have guessed from Nastases' clever rejoinder, Ohanian is white. As if his remark wasn't off putting enough, Nastases later defended his comment on Romanian television's Digi24.
This was a joke. If someone didn't understand it, they lack humor... they have their own humor and we have our humor.
According to The Guardian, Nastases also decided to keep the good times rolling with a little misogyny that ended up getting him escorted away from the tennis courts. During a match between Great Britain's Johanna Konta and Romania's Sorana Cirstea, he was heard shouting at Konta and her female coach:
You're f**king bitches!
Maybe that was a super hilarious joke that nobody else gets, too.
The International Tennis Federation (ITF) clearly does not share Nastases' sense of humor. Since his disgraceful racial slur, the ITF issued a statement via a spokesperson that it has chosen to launch an investigation.
The ITF does not tolerate discriminatory and offensive language and behaviour of any kind. We are aware of alleged comments made by Romanian captain Ilie Nastase and have begun an immediate investigation so that we have the full facts of the situation before taking further and appropriate action.
This isn't the first time the 70-year-old Nastase, who won two Grand Slams in the seventies, caused a stir about Williams. According to The Nation, he made unfounded claims in March that Williams was taking performance-enhancing drugs.
How does Serena Williams feel about Nastase's comments? She has yet to speak out about his racial slur, probably because she's too busy being one of the top athletes in the world while also growing a human person inside her to worry about him.
As our moms told us, that's one of the best ways to deal with a bully. Ignore him. I hear racists bullies hate that.