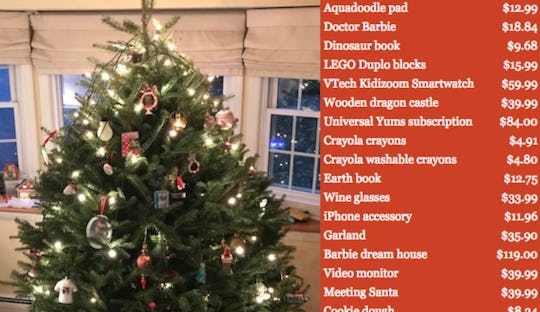 Courtesy of the author
I'm A Married Mom Of Two, & This Is How Much I Spent On Christmas This Year
The holidays tend to light up our budget constraints like a Christmas tree — families make tough choices, and try to put on the best celebration they can for their kids. Romper followed several families as they approached the spendiest season, to see how they handled diverse budgets and wishlists this year.
I love the holidays. Witnessing the sheer joy on my kids' faces while we decorate, sing Christmas songs, wrap gifts and eat our body weight in candy canes is priceless.
It's just too bad the rest of December isn't as ~priceless~ for the old wallet. There is so much to do and buy, and it adds up quickly: The perfect tree, taking the kids to meet Santa (and buying the overpriced accompanying photo package), baking cookies, finding appropriate teacher and daycare provider gifts, stocking stuffers, and on and on and on — it's no surprise families feel the pinch. I tried to spend no more than $1,000 — good luck, I know. Just wait!
Family: Married mom of two
Location: New Jersey
Annual family income: $100,000-150,000
Number of children: Two, ages 2 and 5
As much fun as preparing for Christmas can be, there's no denying how stressful it is, too. My husband and I always strive to give our kids the happiest holiday season which, while well intentioned, often results in my forehead vein visibly throbbing.
But this year I tried something new in an effort to keep my holiday spending from spiraling out of control. I kept a tally of every penny I spent in preparation for Christmas, even though I was prepared for this exercise to add to my stress. But it actually had the opposite effect! It was… fun.
My goal of spending no more than $1,000 total — from wrapping paper to big ticket items and everything in between — was a great challenge. While some expenditures are unavoidable (hello, mall Santa photography fee), I relished in seeking out and finding deals early on (like beginning-of-November early). I figured retailers hike up prices the closer we get to December 25, so I wanted to get ahead of the holiday shopping rush. And I'm glad I did; the majority of items I bought weeks ago are now selling for more.
Here's how it all shook out:
75 Days Until Christmas
Amazon.com: $57.50 (Aquadoodle pad: $12.99; Doctor Barbie: $18.84; Dinosaur book: $9.68; LEGO Duplo blocks: $15.99)
In my twenties, I used to go out with friends and drink. Now, I drink wine and shop online weeks before Christmas. #Momlife.
I always try to emphasize reading and creativity with my little ones, so opting for gifts that reflect these skills were a natural first choice for me. Yes, there's a doll in the mix, but it's the career line of Barbies, so I feel no guilt.
Running total: $57.50
65 Days Until Christmas
Toys "R" Us: $59.99 (VTech Kidizoom Smartwatch)
Costco: $39.99 (Wooden Dragon Castle)
I had every intention of sticking to bulk items only during my Costco trip, but alas, I caved when I saw the castle play-set. And while I was on line to check out, I heard another parent talking about the great smartwatch she purchased for her kindergartener at Toys "R" Us.
I made a stop there on the way home.
Running total: $157.48
49 Days Until Christmas
Universal Yums: $84 (Six-month subscription)
I can't forget about the hubby! He loves monthly subscription box gifts ("They're the gifts that keep on giving!") and trying new foods. This is the perfect gift for him!
Running total: $241.48
44 Days Until Christmas
Amazon.com: $22.46 (Crayola Crayons, 24 ct: $4.91; Crayola Washable Crayons, Large: $4.80; Earth book: $12.75)
I'm so tired of finding broken crayons everywhere. This was absolutely a necessary purchase, if not for my children's artistic development then for my sanity. And hey, thanks for the book recommendation, Amazon!
Running total: $263.94
37 Days Until Christmas
Amazon.com: $45.95 (Wine glasses: $33.99; iPhone accessory: $11.96)
Not the most exciting of gifts, but definitely needed. Fingers crossed these new glasses fare better than our old ones, which were systematically destroyed by a feisty cat who loved to paw things over.
Running total: $309.89
30 Days Until Christmas
Christmas tree lot: $60
Michael's: $35.90 (Garland)
We already have an excellent collection of Christmas decorations, but according to my 5-year-old daughter, we needed that additional garland to wrap around our bannister.
Running total: $405.79
27 Days Until Christmas
Amazon.com: $109 (Barbie Dream House)
This is my crowning achievement on holiday savings. By shopping on Cyber Monday, I was able to save a whopping 45 percent on my daughter's priciest gift, the Barbie Dream House, which is supposed to cost $199.99 normally.
Running total: $514.79
18 Days Until Christmas
Marshall's: $39.99 (Video monitor)
Hubby fancies himself a gadget guy, and we've always talked about getting a WiFi video monitor to put in the kids' room so we can monitor their shenanigans at night time. Admittedly, this was an impulse buy, but a buy nonetheless.
Running total: $554.78
15 Days Until Christmas
Meeting Santa at our local mall: $39.99
Stop n Shop: $8.24 (Sugar cookie dough and frosting)
Our requisite photo opp with Santa is becoming pricier every year. Nearly $40 for 30 seconds on Santa's lap and a 5x7 portrait. Is the North Pole upping its taxes or something? What gives with the cost, Santa?!
Running total: $603.01
12 Days Until Christmas
CVS: $113.95 (Assorted stocking stuffers, gift cards for teachers' gifts)
Running total: $716.96
Okay, I went a little overboard on stocking stuffers for my kids and husband. But, #sorrynotsorry, I couldn't pass up the Poop Emoji candy pooper, plush Rudolph doll, or jumbo candy canes. At least I was more responsible with teachers' gifts; they're each getting pre-paid Visa gift cards.
The Grand Total
Holiday decorations: $95.90
Activities: $48.23
Gifts for kids: $288.94
Other gifts: $244.94
Stocking stuffers: $38.95
Total holiday spending: $716.96
Estimated final total: $1,000
We will be hosting Christmas dinner, so I expect our Christmas week grocery bill to catapult us near the $1,000 mark. And select odds and ends — like more wrapping paper and tape, candy, and cookie dough (essential) — will eat up the last few dollars in my holiday budget.
Previously: How much a single mom of one spent on Christmas.
Check out Romper's new video series, Romper's Doula Diaries:
Watch full episodes of Romper's Doula Diaries on Facebook Watch.