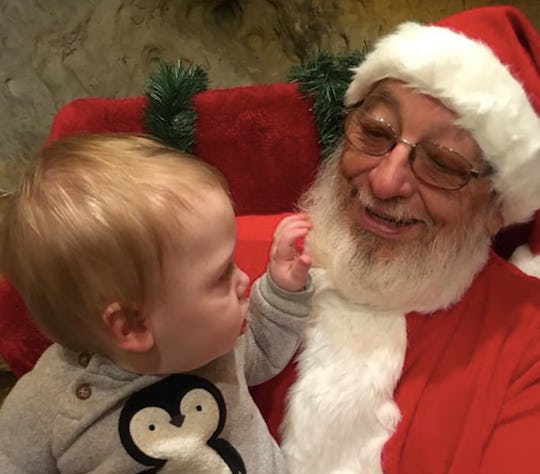 I'm A Mom & I Just Can't Fake Being Excited For The Holidays
It seems like all, or at least most, of my friends on social media are over-the-moon excited for the holidays. They're asking people to post their favorite Thanksgiving recipes, they're sharing photos of their Insta-worthy Christmas decorations, and they're even taking their kids to see Santa. Already. Meanwhile, I'm stress-eating Halloween candy and trying to remember to throw away the rotten pumpkins on my front porch. It's not that I hate the holiday season, because I know it's important to my kids, but I just can't fake being excited for the holidays anymore. For me, this is decidedly not the most wonderful time of the year.
It's not that I don't celebrate the holidays with my family, or am a Grinch about other people's delight in the holiday season. I'm happy to let people enjoy their Elf on the Shelf shenanigans (even though I think it's creepy), or their egg nog and Santa visits. I also understand that, for many people, this time of year has important religious and cultural meaning. I would never try to tell anyone they shouldn't celebrate in a way that's meaningful for them.
I do, however, wish that all of those people inundated with the holiday spirit would leave me alone and give me the space to avoid celebrating. Please don't ask me about my holiday plans, because I absolutely do not have any. Please don't try to play me some Christmas music, because that's like nail on a damn chalkboard. I don't want to hear "Baby It's Cold Outside," ubiquitous covers of Wham's "Last Christmas," or Mariah Carey's critically acclaimed 1994 holiday hit "All I Want for Christmas Is You." No, I don't want to watch Love Actually or the myriad of Hallmark holiday movies, either.
I'm tired of feeling pressure to create a perfect holiday season for my kids, because when I try to make things magical I inevitably fail miserably. I can't create Pinterest-worthy holiday photos, meals, and gift-giving experiences for my family and friends. And believe me, I've tried. I've made Thanksgiving dinner for over a dozen people, I've shuttled my kids to visit Santa, I've baked an obscene amount of Christmas cookies, and I've travel for days to spend the holidays with extended family. And still, I always feel like, in the end, I fall short of the expectations I'm supposed to live up to as a mom.
Things like work holiday parties, school activities, and family gatherings make me feel so anxious and on edge.
Inevitably, at least one child will throw a tantrum (which is totally understandable, because the holidays are stressful for kids, too). I will end up being mom-shamed by family members or in-laws, usually because my kids are unwilling to give grandma hugs and kisses or eat anything on the Thanksgiving table. Someone will give me unsolicited advice about my parenting choices, weight, and career, and I will spend the whole time chasing overtired, cranky kids around while my husband gets to relax and put his feet up. I don't know about you, but none of the aforementioned sounds like my idea of a good time.
The stress of the holiday season is also compounded by the fact that I have really bad social anxiety. Things like work holiday parties, school activities, and family gatherings make me feel so anxious and on edge. I find myself making the same awkward small talk I make every year, which usually ends with me hiding in the bathroom and trying not to have a full-on panic attack. Then, after I've done all I can to try to make sure my kids enjoy the quintessential holiday experience, I will spend the next couple of days recovering.
I also can't make myself get excited about the toys that will soon fill my kids with mere moments of delight, only to be discarded with the thousands of other toys they never play with. I have committed to no longer buying toys for my kids, and instead focusing on creating experiences with them (like trips to the zoo or museum). My kids aren't that thrilled, though. I can't control what other people do, either, which means that half of my kids might get expensive new electronics from their other mom, and the other half will inevitably get loud toys from their extended family members.
I want to make sure my kids have fun, but I just can't fake it anymore.
I don't want my kids to be tiny consumerists, but unless I raise them in a bubble they will inevitably come home from school requesting more stuff that we honestly don't have room for; stuff I absolutely do not want in my house. Each year toys get weirder, grosser, messier, and more likely to break or become useless after a week, too, which certainly doesn't help motivate me to spend money on the latest "cool toy" or fad.
So, yeah, I am dreading the holidays, and I already can't wait for them to be over. I want to make sure my kids have fun, but I just can't fake it anymore. I will still do the "normal" things my kids expect, but I'm not going above and beyond this year, and I am definitely not going to force myself to feign excitement about the holiday season and all that comes along with it.