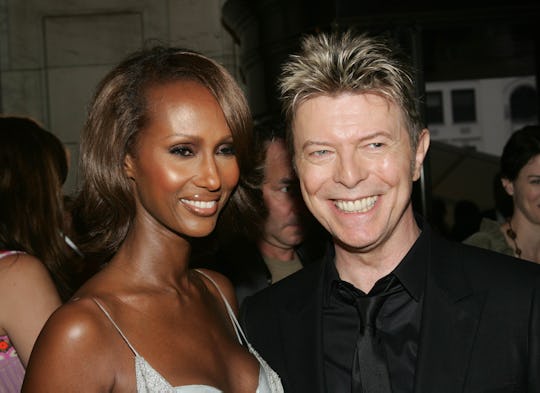 Evan Agostini/Getty Images Entertainment/Getty Images
Iman's Tribute To David Bowie On Their 24th Anniversary Shows Love Can Last Forever
It has been almost six months since David Bowie died after an 18-month battle with cancer. And, while his legion of fans are still in mourning, there is one person whose loss is undoubtedly personal and profound: Bowie's wife, Iman. This week, Iman posted on Instagram to remember her late husband on a special day for the couple. Iman's tribute to Bowie on their 24th anniversary is incredibly touching — and a heartbreaking reminder that love really is everlasting.
For years, when I pictured long-lasting celebrity couples, Bowie and Iman were high on the list. I will grudgingly admit to being old enough to remember being surprised on hearing the news that the Somalian supermodel and rock star had married in Switzerland, then swooning over their first wedding photos. According to Hello! magazine, Bowie and Iman met in 1990 at a dinner party held in honor of Iman upon the supermodel's retirement. And, for Bowie at least, the couple's first meeting had him already envisioning their future children together:
My attraction to her was immediate and all-encompassing. I couldn't sleep for the excitement of our first date. That she would be my wife, in my head, was a done deal. I'd never gone after anything in my life with such passion in all my life. I just knew she was the one.
Iman was a bit more cautious about falling in love, according to her 2014 interview in The Guardian. "I was not ready for a relationship. Definitely I didn't want to get into a relationship with somebody like him," she said. Still, the successful businesswoman and human rights activist said she was drawn to the man behind the larger-than-life image. "I fell in love with David Jones," she told The Guardian. "I did not fall in love with David Bowie. Bowie is just a persona. He's a singer, an entertainer. David Jones is a man I met."
Over the course of their decades-long marriage, the couple has been caught in numerous candid and red carpet photos — and in all of them, the deep affection between Bowie and Iman seems almost palpable. But on Monday, June 6, exactly 24 years after the pair first said "I do," Iman chose an iconic shot to represent their union. The photo shows Iman and Bowie on a beach, laughing into the camera. Iman's gauzy white dress looks almost bridal, and her rock star husband was casually cool in a white button-down shirt, jeans, and sunglasses. It's almost looks as if the couple had just finished exchanging their vows. According to Entertainment Tonight, the photo is from the only professional photo shoot Bowie and Iman did together in 1995, with Vogue photographer Bruce Weber. The only addition is a message printed in black lettering along the bottom: "The best thing about me is you."
Pop icon Bowie died in January after an 18-month battle with cancer. In addition to more than two decades of marriage, the couple shared one child together: 15-year-old Lexi. Certainly, no one feels the heartbreak of Bowie's death more than his wife and daughter. While his fans are still mourning a legend whose work transformed both fashion and music, Iman's Instagram photo makes clear that she lost the love of her life. And what an amazing love it was.